Movies and More Movies...
Tonight we went to see Rumor has it...a movie with Kevin Costner, Jennifer Anniston, Shirley McClaine and Mark Ruffalo. Although I had heard via
Alison
that the movie didn't get good reviews, we like to see for ourselves. We both enjoy seeing movies with these performers and really expected a HAHA time! Sorry to say...we were disappointed. The movie was cute,but only had two or maybe three (or maybe two) funny lines. In all honesty, I wasn't bored, or had a strong desire to walk out...it just....wasn't!!!
Last night we saw Memoirs of a Geisha. I had read the book 6 years ago...and LOVED IT! I really enjoyed the movie, although (of course) it didn't go into the story in as much depth as the book did. As for Gerry....ummm, he went along for me!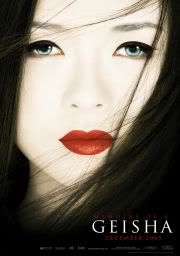 On a knitting note...I finished the cover for my throw pillow, crocheted using Lion Brand Homespun yarn, color 341 Windsor (a combination of blues, greens and light purple). The cover took almost two skeins using a K crochet hook. It looks so pretty on the couch, as long as it's on the opposite side from the plaid pillow. The most important thing is that it looks better than the tan/green palm tree pillows.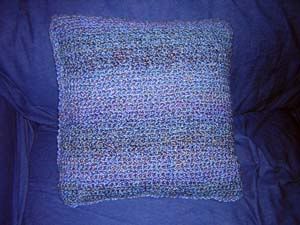 I made a dee-lic--ious lunch today, and I am passing the recipe on to you. The recipe was given to me by my (ex) sister-in-law Pat, who made it for lunch for us when we were in Ocala in October. She got the recipe from Quick Cooking Magazine:
Sausage-Stuffed Squash
prep/total time: 20 minutes
2 medium acorn squash
1 pound bulk pork sausage (I used Jimmy Dean. You can also use veal or beef)
1/2 cup finely chopped celery (I elimanated celery and used chopped, fresh mushrooms)
1/2 cup finely chopped onion
1/3 cup sour cream
Cut squash in half; remove and discard seeds. Place squash cut side down in a microwave-safe dish. Cover and microwave on high for 10 - 12 minutes or until tender. Meanwhile, crumble sausage into a large skillet; add celery (mushrooms) and onion. cook over medium heat until meat is no longer pink; drain. Remove from heat; stir in sour cream. Spoon into squash halves. Cover and microwave for 1 minute or until heated through. Yield: 4 servings. ***This recipe was cooked in a 1,100 watt microwave. Serve with a nice salad.