More Holiday Treats
My lovely daughter Becca and her wonderful Phil sent a package for the holidays. Gerry received a set of Calvin Klein colognes...I like the Bijon that he wears but this will be a nice change. For me, one of my three favorites from Victoria Secret...RAPTURE!! I LOVE this scent (I also love Heavenly Dream Angels and Breathless). I like a good, clean smell, nothing flowery or sweet. And they even remembered "the boys" with a set of doggie treats. Thanks, Bex and Phil! We missed you for the holiday, but you were SO sweet to send such thoughtful, lovely gifts.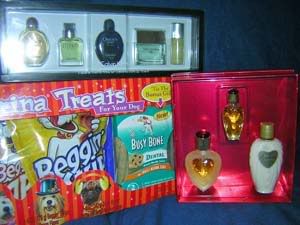 Last night, as the Rutgers/Arizona State game was raging (oh, my, goodness - what a shock! Rutgers really gave AS a run for it's money...everyone thought that AS would CREAM Rutgers, and, while AS won, it wasn't by a whole lot!!)....I covered two of my throw pillows. The entire project took about 30 minutes. My last couch covers were green cotton, and my pillows were beige/green with a palm tree motif. This time I bought blue denim slip covers and the pillows just didn't go, so I bought blue plaid fleece at JoAnn's Fabrics and.....see for yourself:
It looks GREAT on the couch. Ok, so I kinda lost that "Jimmy Buffet" look in the room, but it's comfortable, clean looking, and I love it. I am in the process of crocheting a cover for the third pillow, using Homespun yarn. I will post a pix when finished. Gerry, who didn't know me "when," was very impressed with my work. Geez, I told him...this was a piece of cake. Amazing what you can learn from your
child
! In my past life, I did it all....knit, crochet, needlepoint, crewel work, sewing (with a machine), and more. Now...I stick to knit and crochet, and this wonderful knotting technique (cause it's just so easy and yet so pretty). Plus, my house is SOOO small...I wouldn't have anyplace to work with a sewing machine. Am I sad? Not at all....as I get older, life needs to get less complicated. That's why I love knitting so much...it's fun, compact, portable, wearable, satisfying (most of the time) and share-able!!