Famous Last Words
tonight Gerry and I went to the IMAX 3D theater to see Magnificent Desolation, a movie about walking on the moon, narrated by Tom Hanks. The movie was good. Instead of eating where we usually do we decided to drive back to Boca Raton and eat at a restaurant that we like. While we were driving there we talked about our cars and I said,"Thank goodness my car (of 7 years) is still in great shape. I'll drive it till it can't even crawl anymore!" - I love my car. It's a '98 Pontiac Sunfire convertible - RED!!! Well, I spoke too soon....
After a nice dinner we came out to get the car from the valet parker. When the young man came over and said, "Oh...you are the owners of the red Pontiac convertible?" I knew it wasn't good news. Seems that when Juan (the young man's name) was parking the car, he turned the corner and a man who had parked in a handicapped spot and realized that he couldn't stay there (he wasn't handicapped, or at least, he didn't have a handicap permit)....this man backed out of the spot, obviously wasn't looking carefully, and rammed into my car, scratching and denting the passenger door. And he hit it hard enough that he broke the window...which was down, inside the door. The glass must have been forced out of the top opening of the door because there were large chunks on my seat, floor AND in the rear floor. Plus the sideview mirror casing was broken. I was heartbroken, but was also happy that the young man wasn't hurt. Juan was great, too....he had a camera and took all kinds of pictures, called the police immediately and already had a police report in hand. We went over everything with him, and then found out that the owner of the other car was in the restaurant. Gerry and I went in to see the man (and truth be told, I really thought that he would nicely say, "Oh, gee, I am so sorry, but I didn't see your car" or "I made a mistake," or "I am glad the valet parker wasn't hurt" and "Don't worry....we'll let my insurance company handle it." INSTEAD....the JERK said, with a straight face, "Oh, yes, the valet parker came around a corner and hit my car!!!" and denied any wrong doing. NOW I was angry, but Gerry suggested we just leave (gotta love him....he's become a pacifist. I was ready for my Bronx roots to begin to come out).
Here's a few pix of the car, glass on the floor (Gerry tossed the pieces from the front seat so I could sit down), and the door. They may not be too good as I took them in the dark.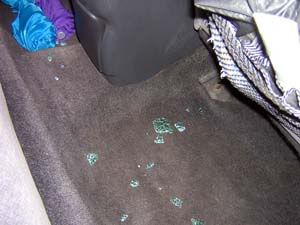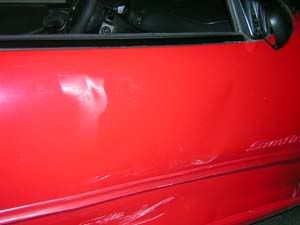 When you look at the car you can see that it was not a side swipe but a direct hit. Anyway, I called my insurance company, GEICO, and they were wonderful. I already have an appointment to take the car to a nearby collision place where the adjuster will come out and look at it. I get a rental car, too, till it's fixed. Unfortunately, I have to pay the $ deductible, but then GEICO fights the other company for it, and, since this is not my fault - I wasn't in the car, most likely my insurance should remain the same. IT BETTER!!!
The rest of the evening wasn't much better. We planned to go to a second movie, but the theater was packed. We drove to another theater but we missed the showing by 20 minutes. I know that in the scheme of things, all of this is so minor. Still, seeing my car with a big boo-boo hurts!!! (and having to lay out the deductible doesn't feel too good, either!!). Ah, well...as Scarlet O'Hara once said, "Tomorrow is another day!!!"...and so it is!