Lookie What I Can (Finally) Do!!
I am just SO excited!! I made my first REAL cable item, a hat from
Top Down For Toddlers
, the book I received for Hannukah/Xmas, using yarn I received at that time. The yarn is from
Knit Picks
. It's Merino Style 100% merino wool, vanilla.I was
coerced
asked to make this sweater set by
Alison
. I must admit that I was really nervous about making the cable, and the silly thing is that I knitted and frogged the top part about three times, but had absolutely no problem with the cable. If I say so myself, it's not bad for a first try.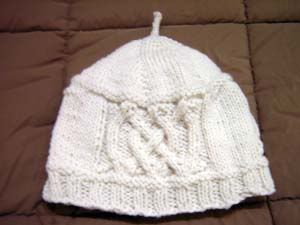 I am now working on the sweater, and once again I was nervous excited about making the cables. After the first few rounds of working the cable pattern I am sweating confident that it will look great when I am done.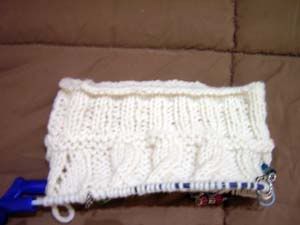 I got all of this knitting done in the past few days....at the hospital. Gerry was operated on last Wednesday to remove the fluid from his heart lining. The surgery was short...less than an hour. The worst part was waiting for the cytology report on the fluid and.....drumroll please...it's NEGATIVE for malignancy, which means that the fluid was most likely a result of the past surgery. Ol' Ger is still a pain in the butt doing fine and will be coming home tomorrow. That's great news for me, since I worked each day and then spent each night with him at the hospital, getting home in time to set out my things for the next day, fiddle a bit on the computer, go to sleep and start all over again. It really will be nice to have him home though. In about 2 weeks he will start Interferon treatment, which goes on for about a year. Hopefully he won't feel too badly (though we heard the first month is really tough) and will be back to work in about a month and a half. As an aside....because I care about all of you who read this....one saving grace through all of this was that Gerry purchased an AFLAC Cancer policy about 5 years ago. Of course, he wasn't counting no getting cancer so young, but knowing it was in his family, he figured he'd get it and be ahead of the game. This policy is not health insurance....it's supplimental...it pays YOU for out of pocket expenses. You can read about it for yourself, but let me tell you.....it's WONDERFUL!!
A note for my Secret Pal 7 - the yarn that I used to make the Vogue Hat (shown in my previous post) was sent to me by my SP6. It's 100% merino - DK/lt.worsted weight yarn. As there is no color or any other information listed (beside yardage) I assume she dyed it herself. Thanks again, SP6!!