A Not-so Good Vacation and Happy Holidays to All
It started out to be a relaxing mini-vacation in Key West. Yea! Best laid plans...! I had purchased a "vacation package" way back when. Last March Gerry and I went to the first of our 3 three-night trips. Orlando was good. We sat through the required timeshare presentation...no problem saying no - we even offered to sell them ours!! But we did enjoy the "free" tickets to Universal. I had reserved our second trip, to Key West, for Veteran's Day weekend, but had to cancel because Gerry's surgery was a few days later and we had things to take care of. Now that he is doing so well, we decided to take Mom along and go to Key West. We left Tuesday. It's a hour drive due south of us. The weather was SO not Florida....cloudy ALL DAY, and cold. Ok, not as cold as NY or Atlanta (right, Alison?) but cold enough to wear long sleeves and two jackets. The only choice for an activity Tuesday night was to go to the movies. We saw King Kong....I really liked it, although it was a bit too long (3 hours of film, too long for even a seasoned movie goer like me to sit through, although it did hold my interest).
Wednesday morning was the required timeshare presentation. Instead of a salesman talking to us as a couple (plus Mom), this one guy, RON, took 4 couples (plus Mom), saying that they were short-handed due to the holiday. Right from the gitgo, I could see that this man didn't really like his job. He was arrogant, rude and just not pleasant to be near. Once we were seated in a little patio room with roll-down plastic walls (and heater), RON proceeded to talk to us. He really didn't seem to have his presentation set, but seemed to be taking his thoughts from anywhere he could pull them from. He was rude to the couple next to me, and very cocky. As he talked, and asked, "Don't you agree?" I could see that the others didn't necessarily agree with what he said, but no one contradicted him. I hate that people sit there, afraid to say a word or express their opinion. Now I am not always one to jump right in either, but I dislike being sermonized by a jerk more than I dislike speaking out. Ron proceeded to tell us that a vacation is NOT a 3 day trip but 7 days or more. I told him that I didn't agree, that anytime I get away from work and home, it's a vacation. He didn't like taht. To be truthful, all I could think about, as this man spoke, was how much I wanted to hit him (yes, he was THAT obnoxious and annoying). But I was a good girl, non-confrontational, and just sat there. However, when he tried to tell us that our lives were 2% vacation and 98% Bulls--t, and asked me if I agreed, I had to be honest and say, "No. My life is more like 40/60." Before I could even offer an explanation, Ron "hit the ceiling." He stepped toward me, handed me papers and YELLED, "GET OUT!" I was stunned, but happy that I no longer had to suffer in his presence. Gerry, Mom and I stood and began to walk out. As we passed him I said, in a level voice, "You are very rude," and Gerry said, "You are rude and arrogant." With that, this jerk YELLED at us, "GET THE F**K OUT!" Have you EVER known a salesperson to be so nasty and rude? Looking back, I guess I should have turned around and confronted him, but I was so shocked and mortified. We walked out, and as we were walking around the outside of this little patio, we three were talking to each other about how awful that was, what a poor salesman he was, and all of a sudden, Jerk-O YELLS through the plastic walls at us (I don't remember what he said but he was still being nasty). Gerry now raised his voice and called back that he wanted to return and punch the guy in the face, to which Jerk-O yelled, "I'm here....come on!" People, let me tell you....the only thing holding Gerry back was the recent surgery on his chest, and oh, how I was wishing he was able to go in there and punch that guy (this is coming from a pacifist!!!). I am sure you can "hear" that I am still incensed. To make matters worse, I spoke with the secretary (who didn't seem surprised at all by this man's behavior). She gave me the supervisor's name and requested that I call him in an hour, as he was not in. Long story short....I called 5 times, all day long...he was out, he was not available, he was gone to the dentist, he had tooth pulled and wasn't in, yada, yada, yada. Then the secretary offered me (as per the supervisor's instructions) a 3 night trip to any one of 60 locations. Now maybe you would take it, but I didn't want it. I want a phone call, a verbal apology, and a written apology, and I want that man FIRED!!!! My husband has been a salesman for over 22 yrs, my dad for over 50, Mom was an RN and I am a teacher....we all deal with the public. NEVER have any of us lost our cool THAT much to be so offensive to a client, parent, etc. Plus....what the heck did I do to warrant THAT? So I started my letter writing campaign....to all companies involved in this. Of course, we all know that nothing will be done, but hopefully I will get some satisfaction in venting!
That done....Gerry, Mom and I went to Duval Street - the best part of Key West. We walked around a bit, bought some fish and shell decorations for the house (Gerry likes to think of our house as Key West/Jimmy Buffet style - hmmm, not really, but it does have a slight beachy motif in the bedroom, I guess). It was only in the mid 60's so we couldn't stay out all day (too cool by the water).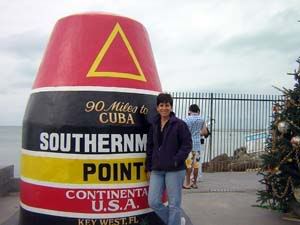 Here I am at the monument for the Southermost Point of the US - 90 miles to Cuba.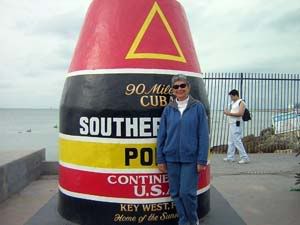 Mom's turn by the monument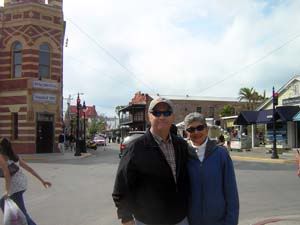 Gerry and Mom at the market place on Duval Street, Key West
After a GREAT lunch of seafood soups and appetizers, we returned to the hotel for a rest, and then went....to the movies (it was toocold - mid 50's now - for the catamaran Sunset Cruise that we were given for free as part of the package). This time we saw Cheaperby the Dozen 2, which was very cute. Thursday morning....we were OUTTA THERE!!! even though our package was to go till Friday. We wanted no more of Key West at this point. A long way to go (4 hours each way) for two movies and a tasty lunch! The one plus was that Alison's in-laws (who live in N. Carolina) were vacationing in Weston, Fl (about 20 minutes west of Fort Lauderdale). We met them at a diner in Weston, which was on our way back home. We spent a lovely 2 hours with them. Karen gave me a darling little ceramic menorah for Hanukkah that uses birthday candles. Sorry for not posting a picture of it Karen,but I do love it.
Then it was time to head home....ah, home looked SO good, felt SO nice to be there. And the dogs gave us their version of a standing ovation!
My pictures posted in the wrong order....I took these pictures last weekend. Here is my coffee table, decorated for winter (snowpeople) and Hanukkah (Karen, I put the little menoral to the right of the one pictured here).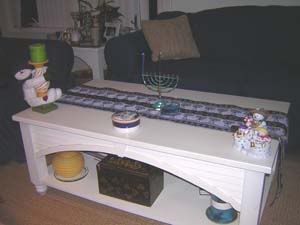 And here is our tree, a little smaller than usual, but I think it came out pretty good. I love that we get a real one each year. In my last life, we always had an artificial tree (oh, but it was so BIG and beautiful). Yes, I am Jewish, but spouse # 1 was raised in a Catholic home and wanted a tree, and since my step-family is Catholic and we did Xmas as well as Hanukkah, I had no problem having a tree. In fact, Xmas became a big holiday in our house. Gerry, raised a Catholic but who now considers himself to be a spiritual person (which means a believer in God and being a good, honest person) of course celebrates Xmas. That works for me. He does the outside decorating....lights, nodding dear, etc., and the inside and tree are my domain! The only thing I didn't like was that I could not get my Southern Living Copper Angel on top this year, so we have a porcelain faced, tacky blue-dressed angel on top - I just couldn't photograph it....I don't like it all that much!!!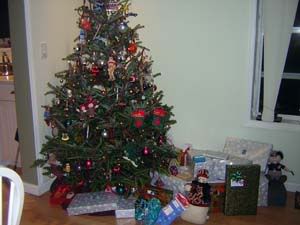 Bored yet? Had enough? Well, I have.....next time I hope to post a picture of Phil's sweater that I have almost finished, plus the presents I get. Now I am going to go into the kitchen to make the Neiman Marcus Chocolate Chip Cookies (yes, THE NM cookies) that we were given in a jar, as a gift! Have a wonderful holiday, whichever one you celebrate.