Showers and Shawls
The day finally arrived!! My coworkers and I threw a surprise "Groom's Shower" for Shawn, our fellow kindergarten teacher who is getting married tomorrow, May 1. He is such a great guy and we thought, "heck, we go to showers for every teacher/staff who gets married or pregnant...why not for Shawn?" It was even more special because Shawn had had a motorcycle accident in October and almost died; he recovered (still is in therapy) and returned to work 3 weeks ago....but....totalled his car two weeks ago!!! Yes, I asked Michelle, his fiance, if she was SURE she wants to marry him. Guess she's a glutton for punishment (she was riding with him in each accident...luckily, except for some foot damage, she's ok). The shower was a complete surprise, held just after a staff meeting. Shawn and Michelle's moms were there, and so was Michelle. I made a "tool box" and every brought a little tool or kitchen gadget for it (in lieu of a "wishing well"). The cake and paper goods were Bob the Builder motif: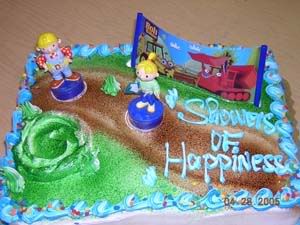 It was so cute and a lot of fun. Here is Shawn, Michelle sitting in front of him, and the rest of the kindergarten teachers, from L to R...Jessica, me, Shawn, Wanda and Pam. This is the best group of kindergarten teachers I have worked with at this school. Though all have been nice, we are a very cohesive team. Gerry and I are looking forward to the wedding tomorrow so we can dance up a storm!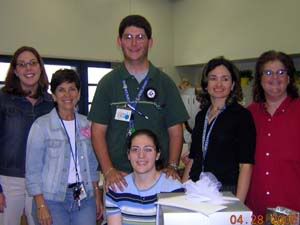 Today was THE DAY!!! The day that our Secret Pal 4 buddies were revealed, and, right on time, there was a package from my pal...she is Jessica from Brooklyn, NY (YEA, NY), 27, and so sweet. She sent me a pair of birch size 15 needles, hand-space dyed cashmere yarn, and the book Yiddish with Dick and Jane. How awesome!! Jessica...you are fabulous!!!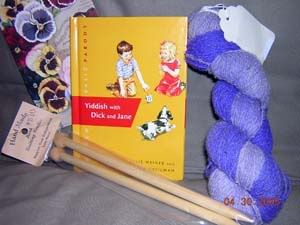 I am working on my gray cardigan made with Karina yarn. I have the back finished and I have started the fronts, working both together. I still have to sew the WOW! chenille cardigan together (and here is where I will probably procrastinate as I am not a lover of hand sewing). But the biggest thrill was that today I went to my LYS, The Gifting Tree, with Arlene, one of the knitting ladies from the (now discontinued) SnB group. She helped me pick out yarns for the Surprise Shawl that I am making for one of my coworkers, Aida. I can't wait to get started on it. The yarns are just too beautiful, don't you think so?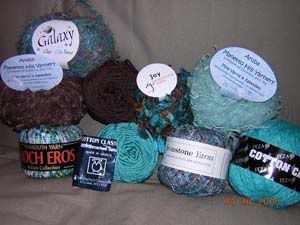 It's being made in turquoise and browns, different textures and some glitz. It's worked on size 15 needles....HEY, Jessica....your gift is just in the nick of time!! Guess I have to spend less time on the computer and more time in front of the TV to get these projects done. And another friend/coworker will give me her decision tomorrow (and I just know it will be a go ahead) to make her a long sleeved shrug in white and silver.
Today our dear friends John and Melinda are coming over for BBQ . Gonna use our new grill. I bought a little tray that is used to grill fresh veggies and I am trying it out today. I bought nice, fresh veggies at the Farmer's Market - asparagas, eggplant, zucchini, portobello mushrooms and red onions....mmm, my mouth is watering already. Add to that some steaks, thin seasoned sausage links and a big, fresh salad...I am good to go. OH - good news (to me, anyway). My cholesterol was checked in the fall and was a bit high - 235 (can't beleive that I am at that "check your cholesterol" age). I eat healthy, but watched it a bit more, started eating Cheerios in the morning and walk the treadmill at least 3x a week, an an occasional bike ride at night....and yesterday it was checked again and it's down to 173. Is that great or what???? I feel like such a good girl...getting rewarded for doing the right thing!
Hope you all have a wonderful, sunny weekend!!!