A Busy Weekend
Just read my last posts and found that it didn't "take" my February 15th post. So, as a fast recap....I arrived home from school and lo and behold, there were a dozen roses from Gerry! He claimed they were not for Valentine's Day, but they were a "day after" gift. No matter....they were beautiful! I guess it's better late than never!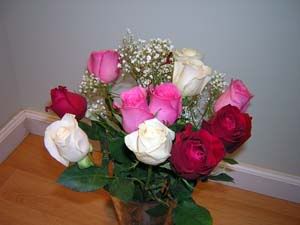 What a lovely day I had yesterday. I had my nails and toenails done (in my favorite shade of red...to match my car). Then to the mall. Ever have one of those days where you can shop and shop and you find nothing? Well, yesterday was NOT one of those days! In Ann Taylor Loft I bought three tops; at Steinmart it was buy one, get second 1/2 off (shoes) so I splurged bought two pair, plus pj's for Gerry (the pants were made for Michael Jordan, they are SOOO long); I got a great buy on a paper shredder; and treated myself to two new eyeliner pencils. At night my friend Lily and I went to dinner and then to the theater to see Wicked! I had read the book by Gregory McGuire. It was kind of strange interesting, but I got through it. The show, however, was wonderful!!! I love when a story is related to another, as this is to the Wizard of Oz, and now and then they say or do things that bring you back to the original characters or story line. If you get a chance to see it, do go!


I finished it...my first cable sweater. I have to say, in all humbleness, that it came out really good. It looks as if it would be so hard to do, but it really wasn't. The pattern is from Top Down for Toddlers. I used 100% Merino Wool (Vanilla), from here. So, Alison, at your request, here it is!!! I'll put it away for you-know-who!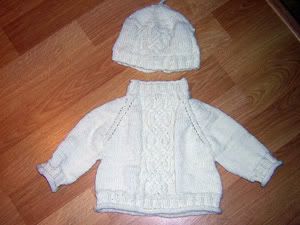 Today was the first day of Gerry's interferon treatment. If you have to be subjected to something that you know will be unpleasant, it's so helpful being among cheerful people. The doctor met with us first, discussing once again what Gerry should expect plus what can be done to ease the side effects. Then we went to the back of the office, to a nice sunny room with patient recliners arranged in a circle. There were several other men seated, waiting for their chemo. Everyone was very "up," sharing their stories, and encouraging. It really relaxed Gerry (he was scared to death). He had an IV inserted into his hand and the drip took about 30 minutes. He will go every day Monday through Friday for 4 weeks (for the IV). When he was finished we went to breakfast. By the end of the meal he started to feel "strange." As he put it, he felt as if he was "coming down with something." I dropped him at home, did errands, and by the time I got back he was on the couch and achy. Tonight his fever went up to 100.8, but at least it didn't reach the 103+ as was expected. I really, really hope that it doesn't get worse than this. Thank goodness for Tylenol and fluids, fluids, fluids.
And now I am excited!! I just booked a trip to Atlanta in April for my mother and I. We are going to visit Alison and Michael for a few days. To those of you whose children don't live a hop, skip and a jump away, you understand how I feel. I am thankful that Alison and I get to talk all the time on the phone, but I miss seeing her more than I do. So each time we are together it's even more special. She already told me that on this trip I will be getting lessons on knitting fair isle...."It's TIME, MOM!" Gee, she's so pushy helpful to me! And I love every minute of it, too.