Onto Atlanta, GA
Thursday....arrived in Atlanta, GA. Had our first meeting with MARTA. No, not MARTHA as in Stewart, but MARTA as in the railroad system. It was such a breeze. You get the train outside of the baggage area and it took us to North Springs, where Alison and Michael picked us up. It saved them a long and traffic filled ride to the airport and back.

We had a wonderful time with the kids. Alison looks beautiful. She has a tummy, not HUGE as she believes it to be, but definitely enough to show she is pregnant. I was so happy to be with her and Michael. Gerry had a ball with Orange and Blue, their two little maltese dogs, and they adored Gerry - especially Orange ("pet me, pet me!").
On Friday Alison and I went to a big consignment sale of children's items and got a lot of things for the baby. Click here to see what we got. I also picked up a few little things that I can use in my kindergarten class.
Saturday we took MARTA to downtown and went to the
GA Aquarium
(note the sign...No Fishing Poles!). It's the biggest in the world. It opened in January and is always packed. I had purchased tix in advance, but we still had to wait on lines to get in (though the lines moved rather quickly). It was an amazing place...there was an area to see River life, ocean life, tropical underwater life, and more. We got to watch them feed the sea lions, walked "under" the ocean - the tank is actually above/around you in an arc, and then sat in front of the tank that is about as big as a football field and watched schools of fish, rays, and 4 whale sharks swim by.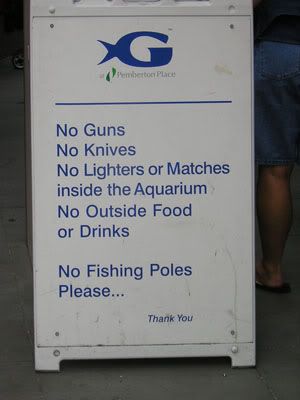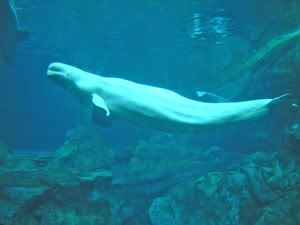 Beluga Whale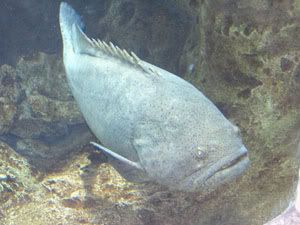 Grouper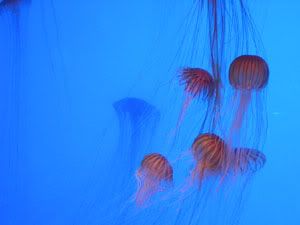 Jellyfish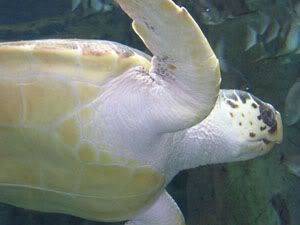 Sea Turtle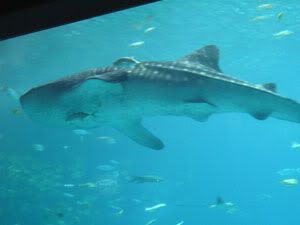 Whale Shark
We went into the cafeteria and as the others sat, I went to get tea and coffee. I felt a tap on my shoulder, and when I turned around, I was looking at a young, very handsome young man with a baby strapped to his chest. I looked at him and he said, "Sorry, but I don't remember your name." I guess I looked very puzzled, so he said, "You are Olivia's friend, aren't you?" and I said, "Olivia V___?" "Yes," he said, "I'm her son!" and then I realized, it was Chris, my principal's son, who I had met only once, at a party the beginning of June. He was in Atlanta with his wife and baby, visiting family. When I got to my table Gerry laughed..."Do you know someone EVERYWHERE you go?" Well, no....but just about!
Sunday we took a walk to Brusters, a yummy ice cream parlor about 1/2 mile from the kids (uphill all the way). The day was REALLY hot but the prize at the end was worth it. A little while later Alison and Mike drove us to the airport. We felt so bad (there's that J. guilt again) cause the traffic for them to return was horrific!!!
After a quick flight, we arrived back in Florida, and my younger daughter Becca was there to pick us up. She had driven down from Ocala to spend a few days with us, and timed it so she could pick us up.