The Best Thing About this Season
I love this time of year. I really enjoy buying gifts for my family, friends/coworkers. I don't get to buy all that much for family, as most of them prefer checks so they can buy whatever they want. I can't blame them...but I miss buying "something" for them. So I get the chance with my non-family.
Another fun thing about this season....getting gifts. Today I received several at work that were SO nice. I know, I know...it's the thought that counts,but quite often you get things that make you say, "What WERE they thinking?" This year, though, I lucked out. My kindergarten team mate, Shawn (along with everyone else), knows that I love to knit (I pull out my knitting at every staff meeting...think that's a clue?). Today he gave me the Pattern-a-Day Knitting Calendar. That is just so cool! What is funny, though, is that I had to buy a $10 gift to give as a Secret Santa present. The woman I had to buy for is an avid knitter. She has whatever she needs...all the needles and extras. I didn't want to buy her yarn (anything really good would be too costly anyway). On Tuesday, at my knitting group, someone suggested that I buy the Calendar (below). I had it in my hand, but wasn't sure that the recipient would go for it. Another suggested a book of knitting stories. We pulled a whole group of books (we meet in Borders bookstore) and I picked one that I was sure she would like (it's wrapped and at work - I am embarrassed to admit that I already forgot the title). I liked the Calendar but didn't want to spend the money on myself. Lo and behold....I got it today!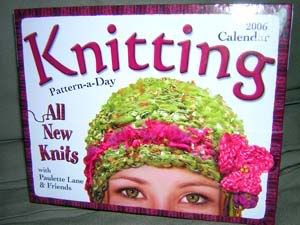 I also received several really nice gifts from my friends at work. I have a secret pal who spoils me all year long with little items that make me feel appreciated. She gave me: an oven mitt with a package of fudge brownie mix and a recipe card for 3 things to make wth the mix, a candle in a lovely glass holder, and an aromatherapy relaxation kit (the one in front); from my Secret Santa - a sample of romantic body lotions from Victoria's Secret (my favorite store); from coworker/friends - a pair of Asian thong sandals, a spa set (on the right), a picture frame with a snowman on it, a little holiday candle, and a set of Hanukkah floating candles (not in the picture). All really nice,useable gifts.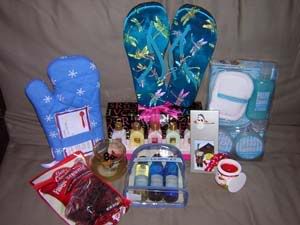 Tomorrow (Friday) will have a really fun morning. We will have the second annual Gingerbread House making event. There will be 100 kindergarten children with their teachers, a few parents, and a fifth grade class helping out. We meet in the cafeteria. For those of you NOT in the know, here is how we make the gingerbread houses: using little milk containers saved from last week's lunches...stick the container onto a square of cardboard with frosting to hold it in place; put a dab of frosting on each side of the container. "Glue" on squares of graham crackers (halves on the "roof"). Cover the GCs with more frosting, and decorate with candies and marshmallows. You need to have a shoebox for transporting the finished product. The whole experinece can be a tad bit harrowing, but it's fun seeing how much the children enjoy themselves.
The best thing about tomorrow, however, is that at dismissal time...we start our 2 WEEK VACATION! AAAHHHH!