A Worthwhile Trip, to Be Sure!
Last Sunday I left home for a 3 1/2 day excursion to Orlando, Fl. I flew there for a Kindergarten Teacher's Conference. It was SO fabulous! For once I was at a conference that was totally age-appropriate. Usually when you go to even an early childhood conference, most of it is geared to the higher of the grades, with honorable mention to K. This time, it was ALL about K. The presenters were marvelous...I didn't blow off even one session. I got so many good ideas...now all I need it the time to implement them. There just aren't enough hours in the day for preparation, but....that's an old story.
Unfortunately, the weather wasn't great and I was alone so I didn't do anything Orlando-ish, but after the past month it was just nice to get away. Gerry was doing really well. Oh, we missed each other, but it was good for him to be doing for himself.
The highlight of my free time (sshhh, don't tell Gerry) was taking myself to see the movie RENT. Now if you are not a RENT addicted person, you might not appreciate the movie. But I LOVED it! I have seen the stage version 4 times, and I am excited that in a few months ( as with all movies these days) it will be available on DVD and I can watch it over and over again. I sat in the theater (all alone...no really, ALL ALONE - it was 11:15 in the morning - and sang the songs along with the performers, cried, laughed (just a little) and sang some more. So if you are really into RENT, don't miss it!! (as to my not telling Gerry - he plans to see it with me. I don't want him to feel that he can get out of it because I already saw the film).

Couldn't believe it....gas in S. Florida when I left was $2.35 for regular....some places in Orlando were about $2.19....look how cheap it was right across International Drive from the Convention Center...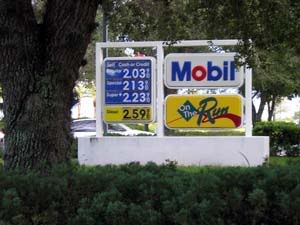 A Gerry update: we saw the surgeon on Thursday. He happily told us that he got the entire mass out of Gerry's chest, along with the middle lobe of his right lung and a piece of the heart lining. He replaced the lining with bovine (cow) lining. Alison has already given Gerry full grazing rights on her property! What a great daughter she is! The surgeon told us that Gerry now needs treatment to prevent this metastisized melanoma from reoccuring. He feels strongly that we should go to a National Cancer Center that specialized in melanomas, and said that NIH in Bethesda, MD or MD Anderson in Houston, Texas were the two best choices. After some discussion, we opted for Texas (I just don't have boots and am not very partial to cold weather ala Bethesda). The sucky thing is that it would mean at least two weeks hospitalization for Gerry and a very tough treatment. The good thing is that Gerry is young and in excellent physical health, which would help him withstand the treatment's side effects.So - we are now making calls and will soon make the arrangements to go to Texas, hopefully in January. We both agree that we have to do everything, no matter what, to make Gerry a very long term cancer survivor.
A very happy weekend....my brother Jon, who has been a single parent to my niece Gianna for the past 9 years (she's 14 now) has been trying most of those years to find a woman to share his life and be a good influence in Gianna's life as well. After maybe 100's of dates and a few not-so-good relationships, he met a WONDERFUL woman. He and Karen flew down to S. Florida so we could meet her. From the minute they walked in last night (with my mom) we felt right at home with Karen. She is cute, perky, warm and friendly, and it's plain to see that she and Jon love each other. They are already planning a summer wedding. It seemed a bit quick, but hey...when you know it's right, you go for it. Karen has a 17 yr old daughter (cute, from her pix) and Jon said she is so sweet. Gianna likes her alot....they are going to make a great family unit. I am so happy for my brother, as you can tell.
Hey, Secret Pal 6. I received the Addi Turbos. Thank you SO much! It's my second pair, different size from the first, and I can't wait to use them (the project I am working on right now doesn't call for circs. You are a sweetheart. And don't worry....when you are able to mail out the package you mentioned, then you will. I certainly understand being busy!
Counting the days till Winter break. Although we had to cancel Cancun, it will still be good to be off of work and get some things done around home. I still have several items to finish start:
Phil's sweater

Mom's textured sweater shrug

Sew together my chenille sweater (from last May)

Either finish or frog my gray cardigan

Make two more facecloths (those must be finished before Dec. 15th)

Knit a scarf for co-worker who is PAYING ME to do so

Baby sweater for Carla's baby boy, due in May

Paint the mirror and light fixture in the newly renovated guest room bathroom

Plant flowers in front of the cottage we rent out back
Guess I won't get all that much rest over the vacation, will I? So....what else is new?