A Little Back Tracking
Arrived in Vegas late last night. When we got out of the airport to find a taxi, we were shocked. There was a huge line that was like a maze, but each leg of the line was soooo long. Luckily, it moved very quickly as there was no end to the amount of taxis. We were just surprised to see such a long line at 11PM. And man, it was hot!!! I know you folks in that part of the States are used to it, but as hot as it gets here in Florida, coming out of A/C at 11PM and walking into an oven was unbelievable for us.
We stayed at the Luxor hotel.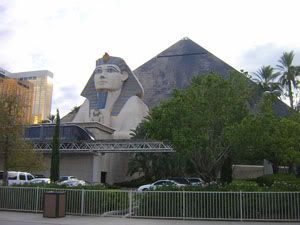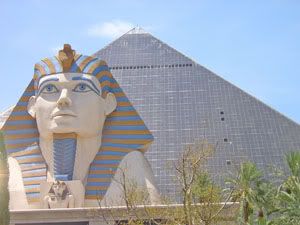 It was beautiful, and in spite of the LONG check in lines daily, didn't seem that crowded. They also had a really good and reasonable buffet called Pharoah's Pheast. I was happily surprised at check in to be given a coupon for $10 in slots and 1/2 off the buffet lunch.
Today we were in the casino
losing money
playing the slots. I had won a little on Friday after we arrived and that was the extent of my gambling. I wasn't about to give it back!
cause I'm too cheap!
Gerry had given me $20 which I parlayed into $100 - I held it and gave it back to him AFTER we left town (in the end, Gerry broke even, so it was a successful playtime).
At night we took the nice A/C double decker bus down the strip to Treasure Island to see Cirque du Soleil Mystere. It was so good! We had great seats, tho I think you can see well wherever you sit. Then we walked thru the Venetian, saw the volcano erupt in front of the Mirage, and went "home."
Sunday we took the bus again down the strip and visited the
Bellagio
. The ceiling in the lobby is covered with crystal flowers. Beyond is the garden area that had an entire "mountain" area with trains going in and out and recognizable buildings carved from wood - the Capital, the Jefferson Memorial, storybook houses, etc. Then to MGM, New York New York, Excaliber, Mandalay Bay. After a good nap we went back to the Mirage for the late seating of
LOVE
, a Cirque Du Soleil that tells the story of the Beatles. Once again, an amazing show. We left Monday, having had a really fun time and looking forward to our next trip to Vegas.