Just Been Procrastinating
I have not written on this blog for just about a week - shame on me! I get so caught up with other things that I do on the computer, and before I know it, it's after midnight.
My big preoccupation for the past week - to start - had been my new phone. I did go to my provider's store..oh, ok...it's Verizon, on Saturday to switch from the LG7000 that I purchased last week and that now is $100 cheaper, to the LG 8000, which is almost the same cost as what I paid for the 7000 model (only $20 more but more features and better camera). I was there for almost an hour. Tamiko, the customer rep, was SOOOO nice. She finally arranged for me to swap out the phone there instead of having to mail the 7000 back to Verizon (I had ordered it via telephone). However, I didn't have the box and stuff so I had to return Monday. I did so, and after another hour or two the phone was all set up and ready to go. I purchased a car charger at that time, and when I got home I found out that the package came with an earphone wire but no clip on holster (my last 2 phones had 2 holsters in them). This wouldn't have been an issue except that if you buy the charger and holster together you get a break. SO - I called the store, told my story, and was assured that I could come in and just get the holster - now a leather case w/clip - for $10 more, which I did today. Whew - glad that's over. As to the phone, it's great, just a little bigger than I would like. I also got 2 months free of V-Cast - the ability to get video clips and games on my phone, later to be $15/month. You KNOW I'm gonna cancel that! It's not live stuff - it's things I can see on TV that I don't bother to watch now. But I did download songs as ringtones and put them with various phone numbers. THAT kept me up until 1 AM Monday night!
Sunday was great. After straightening up and setting up for our BBQ, I went to downtown Delray (9 blocks from home) to the Delray Affair - lots of arts, crafts, vendors, etc. Each year it gets huge-er and huge-er. I even tried to donate blood, which I do 2 - 3 times a year, but my iron level, while not bad, was too low for them to accept. Well, I did try!
The BBQ was fun. We invited some folk who were either Yankee or Red Sox fans, for baseball's opening day game. For those of you who have been off the planet for the past 86 years (or just don't give a hoot) these two teams have a long running rivalry. We, being from NY/NJ (and especially me, from Bronx, NY) are big Yankee fans. We had a big supply of Yankee hats for those who did not own one. RS fans had to supply their own hats.

The couple on the far left are Michelle & Shawn, who we were with in Orlando two weeks ago. I work with Shawn - he is one of my kindergarten team. We will be attending their wedding on May 1. Melinda and John (beige hats) are our very dear friends. We go to Nascar races with them 3 times a year, as well as share other fun times. There is Gerry - navy blue shirt on the left, and some other fun guys, even though they are RS fans.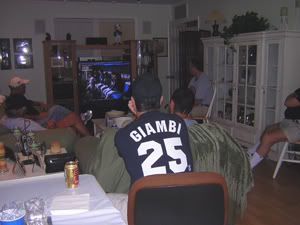 Here are the guys giving the fame their undivided attention. Me? I was cleaning up the kitchen (before and after I took this pix). Don't holler about the guys - they DID offer to help, but I can multi-task - they can't!!!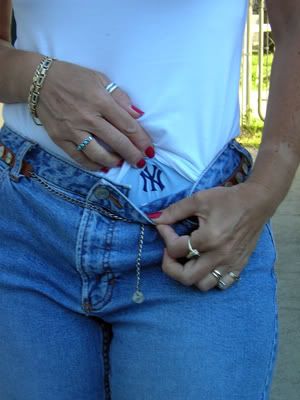 Showing off just how big a Yankee fan I have become. Ok, Becca - not as big as YOU cause I don't have it TATOOed on my back like SOME we know!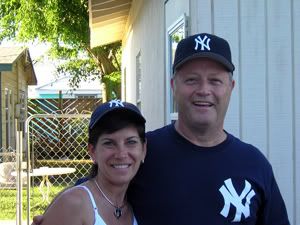 I have to tell you...it's so great to have common interests. Who would have thought that a Jewish girl like me from The Bronx, NY would have so much to share with an Irishman who grew up in the mountains of NJ? But it works (so far!!). And it's lots of fun!
Tuesday night I went to SnB and FINALLY knitted. First I had to tink - or, more precisely, take out a bound off edge - of the back of my half sweater, add several inches, bind off again and begin the sleeve. Truth be told, I am not that happy with it. It's made wtih Debbie Bliss Angora Cotton and it's just too soft - no, I do like soft yarn but it seems to hang too softly. Well, maybe it will be better when it's done. Again - a bit jealous over the beautiful shawls that the other women are knitting, but I just don't see the necessity in it for my lifestyle. I hope to finish this project and then fix and work on the chenille WOW cardigan on our trip to Central Fl this weekend.
On a much sadder note...I don't like to put sadness here, but since I wrote about my excitement due to my stepdaughter's pregnancy, I feel I have to write about this too. Today Suzzette lost the baby, which was a boy. I really don't care to go into specifics as it is too difficult to relate yet again (having shared it with immediate family). Suzzette is doing ok - her husband Brian and Gerry were with her at the hospital today and her mom is flying in from Atlanta and staying for a few weeks (no matter what age, there are just times when having mom around is a necessity). I know that this will be a tough time for S & B, as well as her parents and myself, but I also believe that everything happens for a reason and that this baby just wasn't meant to be. Hopefully, one day they will have their family.
Don't want to end this on such a sad note, so let me say that in spite of it all, the weather here in S. Florida is beautiful, the flowers are in bloom (well, they ALWAYS are), I'm knitting again, and life is good!