Second try....
I spent a lot of time writing this post yesterday via photobucket, sent it to blog and....poof....it was gone! Doncha hate when that happens? So this is my second try.
Hmmm, where to start? Well, Monday I took my class on a field trip to Butterly World in Pompano, Fl. I love this trip. You walk through netted gardens with butterflies flying all around, and even go into an area with small birds, even hummingbirds. I am not a professional photographer, but I did get a few nice shots of the butterflies.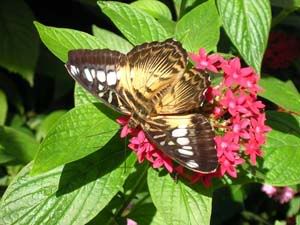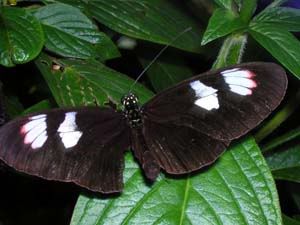 The kids had a great time. Later that day my assistant found a big, black, hairy caterpillar in the school's flower bed. So we brought it inside, set it into a netted basket with a plant on it (for climbing) and keep supplying it with the flowers that it appears to like. I think it's most likely a moth caterpillar. I am using this for our Science Fair project. I actually HATE doing science fair projects...I like observing scientific things but I am not into working on them. The students are really excited about this and so it seemed a natural lead into the fair. I hope that the caterpillar survives and makes a big cocoon for us to watch. I also bought a crysallis of a zebra butterfly (the official Florida butterfly) so we are waiting for that butterfly to emerge probably in a week or so.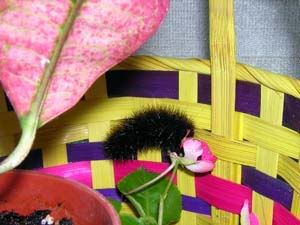 On Tuesday night I went to my SnB group. There were many more women there than ever before. I think it's finally catching on, although several of the women are "snowbirds" and therefore are leaving within the next week or so to go back north for the summer. I am still working on my WOW chenille cardigan. I had to frog the sleeve that I made. It was SO wide, and although it is supposed to be kinda wide, you could have put both my arms into it. So I lessened the cast on stitches and so on up the sleeve. I only have the right sleeve to make and then I can sew it together. Then I will probably work on another cardigan, or maybe make a pair of socks in between. I have SO much yarn I just have to start making that stash a bit smaller. I would LOVE to make a Surprise Shawl, like many of the women in my SnB group are making, but the yarn costs about $125 and I have no real use for it. But it's SOOO pretty and fun to make. I would love to just invest in making one and show it off at work, hoping I can sell a few (although teachers here aren't really paid tons of money). I might just take a pix of one of them and see if I can drum up interest that way.