How About a BBQ?
Our very good friends just gave us this fabulous BBQ. It's a Crown -Verity (never heard of that before but I looked it up and it's a REALLY good one). It's only about 2 months old, 48", stainless steel, uses 2 propane tanks, has blue canvas cover and two large shelves that Gerry has not put on yet. I can't wait to use it. I usually keep the BBQ on the side of the house by the kitchen door, but after having our generator stolen during the hurricane last Fall, we chained it to the backyard fence until our friend Steve finds a way to bolt it to the ground. My apologies to Hank, my ex...I remember a time when he would have killed for a BBQ like this one.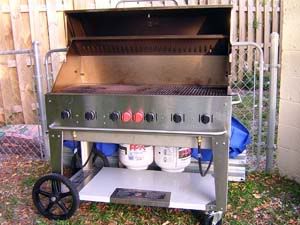 Friday night we are going to watch the Florida Marlins play the Cincinnati Reds. It's Teacher Appreciation night so we thought it was appropriate to purchase tickets (plus they were at a discount). We are going with my friend/coworker Sherry and her hubby Steve, and Shawn and Michelle (he is on my kindergarten team, and they are getting married in another week). I know we will have a great time. We decided that we should root for the home team...as long as they aren't playing the Yankees, of course.
OK - have to shower and get some sleep...tomorrow is a LONG DAY! And to my friends and family who are celebrating Passover this week....have a good sedar.