I Was RAOK'D
Wednesday night we saw the last show in our theater subscription.... Chicago. I freely admit that I saw the original production on Broadway when it opened in the 70's, then again about 8 years ago here in Florida. However, Gerry had only seen the movie, so we were eager to attend. We had our box seats (love that spot) and so were able to see everything very well. The show was still great - Bob Fosse's choreography is a wonderful thing to watch, and the music is terrific. We started the evening with dinner at a steakhouse in CityPlace, a trendy area in West Palm Beach (though the restaurant is merely a sports bar/restaurant. We sat surrounded by 10 big screen TV's, and got to watch the first two innings of the Yankee-Red Sox game. We left for the theater with a tied score...0 - 0. Luckily, when we got home, the Yanks had won....good boys!!! Unfortunately, they were not as lucky the next night! <sigh>

On Thursday night we went to dinner with Gerry's daughter Suzzette, her husband Brian, and her mom and grandmother, both who flew in to be with her after the miscarriage. Suzzette looks great, though she is still quite uncomfortable with cramps and walking is tentative, at best. We had a nice dinner at a local 50's diner. Gerry's ex is very nice and her mother is a sweetheart. It's not the first time we have been together. While I was nowhere to be seen 14 years ago when they split, it's still nice that we all get along so well, especially for Suzzette. I wish that everyone in this world was able to get past their differences and "problems" with each other so that their loved ones would not have to be put in uncomfortable positions of having to "choose" who to invite and who not to when there are special occasions. Life is way too short for holding grudges or just plain not getting along. Ok, enough soapbox for one blog!

I came home Thursday and found an ROAK package waiting for me. One of the women on the FiberRAOK group, Noreen (http://noreensknitche.weblogs.us/), knit a pair of socks for me. They are LOVELY, soft and machine washable. She calls them Tennessee Socks. Thanks Noreen!!!!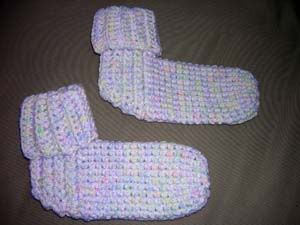 My daughter Alison is running a 1/2 marathon in Albuequerque, NM today with her husband Michael. I have to give them credit...they work hard to meet the challenges they take on. She has been SO sick this week and still is determined to finish this race. On Sunday she turns 29 (for the first time,as she likes to say). I remember vividly when she was born...she is my first...and oh, what a joyous day that way. And unusual...it was in the Bronx, NY, Passover, day before Easter, and the temps soared to 90 degrees. The hospital wasn't prepared with A/C turned on and was it hot for a day or so. Everyone was thrilled with her arrival...she was (and still is) beautiful. So, Happy Birthday, my darling daughter. You ( and your sister, too) are the light of my life!