I Love Getting Goodies!
This weekend Ger and I flew to Cincinnati, Ohio to visit with his friends who I have now known for the past 5 years (actually I know Dave because he comes to stay at our house every Feb for a few days and is also our tax accountant - I met his wife Linda twice before). It was a nice weekend, quiet, relaxing - too relaxing for me, actually. I got a LOT of knitting done (will say more about that later). When we got home there was a package at the door....it was my Sockapalooza socks, and they are SOOO pretty. They are knit with Koigu, and although I do'to like the color orange too much, I love the mixed colors...sort of Thanksgiving/Fall colors. But not only did Jennifer send me the handknit socks, she included a lot more...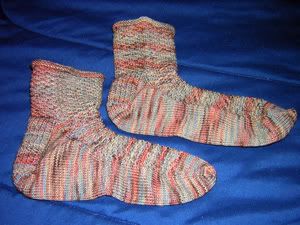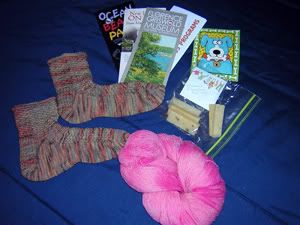 There is what I believe is soap (or is it candle wax?) purchased at the Maryland Sheep and Wool Fair, and a large skein of pink wool, plus brochures on places of interest in Connecticut...Jennifer is from Waterford, Ct.Thank you, thank you, thank you Jennifer! I LOVE it all!! When I go to see my daughter Alison in October we'll put the yarn through her yarn meter, and once I know how much I have I will be able to decide what to make with the yarn.
As I said, I got a lot of knitting done in Ohio. I finished the redo of the Ballet Tee. It looks so good on. I love it. I used LionEase Cotton, three skeins (the piece is worked with two strands together, so the third skein has to be wound into two balls so you can use it double strand.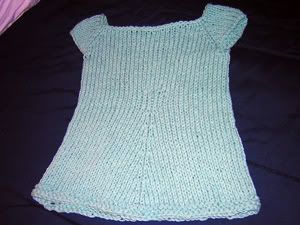 Then I started a baby sweater using a pattern from a small booklet purchased some time ago at JoAnn's. I have all but the sleeves done - I even have the fronts sewn to the back already, and the collar knitted on. I am using a pale yellow Sidar DK yarn. I had four skeins to start. Hopefully I will have enough for the hat.
Once more South Florida is bracing for a hurricane. This one is Rita. It is expected to impact the Keys on it's way to terrorize those poor, already suffering people in Mississippi and/or Texas. S. Florida is taking no chances. They closed schools in the Keys, Miami-Dade County and Broward County - that's where I work. So I am off tomorrow. I'll try to get up and go to the gym with Ger in the morning - but sleeping late (till 8) would be wonderful (although once he's up, I'm up). Will catch up on TIVO'd programs, do laundry (I already did grocery shopping today) and MAYBE straighten out the things in my armoire. Of coure, I'll get some knitting done, but most of it will be saved for my knitting group which meets tomorrow night.
I got GREAT news today! My younger daughter, Becca, is definitely graduating from UCF in May. She was originally told that she was short two credits, but they recomputed and she is actually going to graduate with two extra credits. I am so excited for her. Following her graduation in Orlando, there will be a party the next day. I'll also get to be with Alison and Michael, who of course will be there. Should be pretty interesting, though. Ger and I will go up with my mom, staying at my in-laws (unoccupied) house about 30 minutes from Becca. However, at the graduation and party, will be my ex and my son, who don't speak to (or even look at) any of us except for Becca and her husband Phil. This is all so weird to me, as I get along with anyone, and even if I didn't, I would put it all aside so as not to make others uncomfortable. Wouldn't it be a nice world if everyone would just get along?
Time to go watch the NY Yankees beat Baltimore. Have a good night, all!