Finally Got Here!
What a good week!! My class was wonderful all week. I know it's going to come back to haunt me, I'll probably get a student with a major problem, but so far these students are heaven. Even the other teachers who work with them - PE, Art, Music, Spanish...all agree.
I went to my knit group on Tuesday and met Susan, who is not a new knitter but new to our group. Unfortunately there were only 3 of us, including Susan, but I am confident she will return and meet more of the group this coming Tuesday. I worked on the textured shrug, finishing the knitting and starting the sewing of seams. I finished it today but, no matter how I tried to cast off loosely, the bottom edge is still too tight. I left the yarn untied when I finished casting off, completed the back neck, and returned to undo the cast off. BUT....it won't undo....somehow I am NOT opening the right stitch. I tried and tried...oh, well, I'll just wear it as is. I am eager to wear it tonight.

I started working on the Ballet Tee from Loop de Loop book. I am using Ease Cotton, turquoise color, that I bought in Tuesday Morning. I also purchased Denise interchangeable knitting needles. Yes, I told my self, you have LOTS of circular needles, but now I can carry them with me and have sizes 5 - 15 with various lengths of cable.
I received my last SP5 package and now can reveal that she is Bethanie of
www.creativeone.blogspot.com
. She has been a wonderful SP. This last package contained Peaches & Creme 4-ply worsted weight 100% cotton yarn (by Elmore-Pisgah Inc)....3 balls, color ecru; a bulky-knit count - I have one for small needles but not for bulky needles (good thinking, Bethanie), a CD of Musical Hits from Various Broadway Shows - I LOVE Broadway showtunes, and it has one of my current favorites..."What Do You Do With a BA in English/It Sucks to Be Me! from Avenue Q, which I saw in June while in NY;" and a great book...Get Crafty by Jean Railla. The book is dedicated to "the Craftistas" which is all of us women crafters. There are some great recipes, hints for sewing an A-line skirt, painting the house, knitting info, making flower pots from old vinyl 33 1/3 speed records...Hey, Alison, is this where you got the idea from? So, Bethanie, thanks once again for being a fabulous SP. I loved each and every package!!! You are terrific!!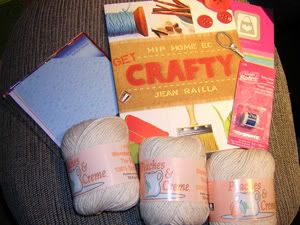 On another note...My daughter went to the dr. on Friday and was told that she is physically fine (after her miscarriage) and can now let Michael "out of the basement." However...a slight glitch. My poor son-in-law has poison ivy from doing yard work...a REALLY BAD case of it. So Michael....much as I hate to say this....DON'T GO NEAR MY DAUGHTER yet! I went through chicken pox with her when she was 14 and she is not too pleasant when she is itching!!!
Movie reviews: The Constant Gardener was a great movie. It's both a love story and a consciousness raising story. I think that Ralph Fienne should be nominated for all the applicable awards. It falls in the same category as Hotel Rwanda, but it's more about people's greed and their lack of caring about the human race.
The 40 Year Old Virgin....sounded SOOOO goofy to me, and I have to admit that it was silly at times, but absolutely hysterical. We have all known men and women like some of those depicted in this film...we laughed at them then, we can laugh at them again. One of the more memorable scenes is when the "virgin" is having his chest waxed!!! I think every woman in the audience felt his pain - as we laughed and laughed. Even my mother, who is 80 (a very "with-it" 80) loved the movie.
Tonight we are off to dinner with my cousins. We were dining on the Avenue with friends last night when I spotted my cousin from Texas walking by with a woman (his girlfriend who, up to then, I had not met). In front of him was his brother and wife who I knew were coming to town this weekend but never expected to see. I chased them down and we chatted a little before they continued on. So we are all getting together tonight at one of our favorite restaurants....J. Alexander's in Boca Raton. Gerry and I always get the same thing....Steak Maui, a marinated steak that is delicious, and Alex's Salad (comes with the meal) - a huge chopped salad. Should be a fun time.
Speaking of Gerry...I am so proud of him. He was told by his dr. that his sugar and triglyceride levels were a bit high and that he should lose weight. In 3 weeks he has lost around 13 lbs, looks good (stomach getting smaller) and works out 3 or more times at the gym each week. What a guy!!! The hardest for him is giving up his enormous popcorn doused in butter each time we go to the movies, but he is sticking to his convictions (he gets a small popcorn once every three movies).