More Catching Up...
February 17
Last night was: Movie night! OY!!! We went to see Steve Martin in The Pink Panther. While there were many slapstick funny scenes that drew belly laughs from us, it was one of the stupidest movies we have ever seen. So unless you like dumb humor, or you are a die-hard Steve Martin fan....miss this one!
We have been paying someone working hard to get our third bedroom finished. We purchased a daybed back in December, and just got our new TV armoire last week. Gerry just has to paint a small part of the ceiling and we will almost be done.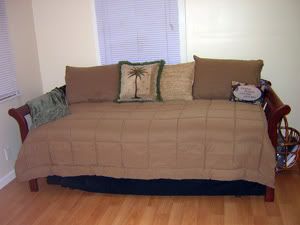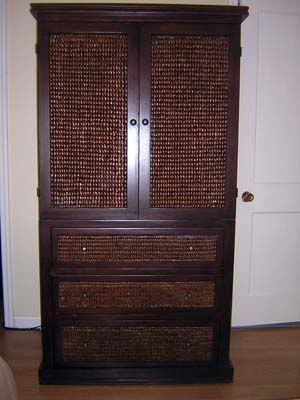 Gerry is doing really great. He feels good, looks good and is ready to return to work....BUT....that won't happen because Monday he will begin Interferon treatment, and that, my friends, ain't too pleasant! He will have treatment Monday - Friday for 4 weeks, by IV, and then 3 times a week for the following 11 months, given by injection (either at dr office or by one of us at home). The side effects are like the flu, without congestion - aches, chills, fever, extreme fatigue. Once he is no longer getting treatment by IV those side effects should let up, with the exception of fatigue. We are hoping that since he is otherwise very healthy and in fairly good physical shape (aside from his cushy belly) he could possibly do better than most. So we will deal with it as we deal with life in general...one day at a time! To help him through this, Alison made him a wonderful present. He had jokingly asked her to knit him a chemo cap (although he most likely will not lose his hair, and if he does, he can wear one of his ball caps). Instead she sent away to South Bend, Indiana for fleece fabric with the Notre Dame logo (Gerry's favorite college football team) and made him a blanket. When he opened the box and saw it the look on his face was priceless (he even shed a tear). He loves Alison but this was icing on the cake. He shows it very proudly to everyone who comes into the house. Thanks, Alison!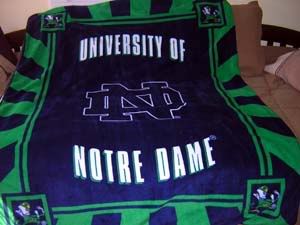 In the package was a beautiful needle roll for storing dps. Alison makes them, and she sent one as a gift to me - have heart, mothers of teens...they eventually grow up and become wonderful (well, actually, Alison always WAS wonderful when we weren't butting heads). If you want one too you can go to this site to order one. What a great home for your dps!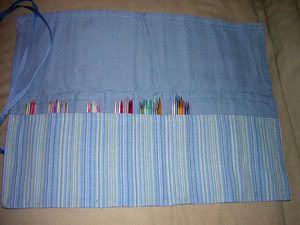 While reading
Sarah B's
blog I learned about the
Preemie Project
. I promptly went to the site and soon after pulled some yarn from my stash and made a pair of booties and a hat. It took no time at all and was a good feeling to know that a teeny baby would be wearing the set to help keep it warm and cozy.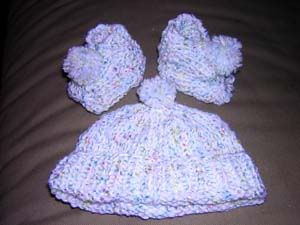 February 18
Today we went to Goodwill and purchased a little chair for Gerry to use during the treatment time.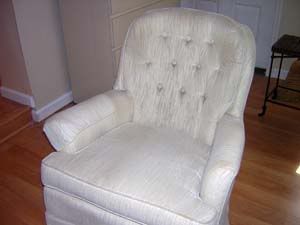 He is being thoughtful, knowing that I have to get up each day for work and should try to get some sleep. So if he is up a lot at night he plans to stay in the third BR, but wanted a chair to sit in some of the time. This one was cheap perfect....it's comfortable and is a rocker, too! When we are finished with it we will give it to our tenents, two guys who could care less about where their furniture comes from.
The weather has finally gotten nice, and two of my doggies took advantage of the warmth. Here are Tiemann and Rusty, basking awhile. Not a bad life.
Tomorrow Gerry and his friend John are driving up to Daytona for the BIG RACE! It's the first NASCAR race of the season. Each year the guys attend this race (except for the year we went to AZ to visit
Alison
and Michael, and happily....it rained on race day, forcing the race to be cancelled).

Gerry would have missed this year's race had he started his treatment as planned, last Monday. However, we felt that a week wouldn't make a difference, and as we have no idea what next year will bring, we both felt that he needed to have go to the race and have fun. As for me....I'll be here, yippee, all alone. I have 2 tickets to see Wicked, and since Ger won't be here, I am taking my dear friend Lily. She was so thrilled with my gift that she insisted on taking me to dinner. So, after getting a manicure and pedicure in the morning, a trip to Costco, a visit to the mall and the 99 cents store, I'll be on my way to a fun evening.
Good thing we are each having a GREAT Sunday...for Monday, I'll be at Gerry's side as the yucky treatment fun begins!