Seven-th Heaven!
I am SO excited!! Last night I received my first package from my Secret Pal 7. It came from Philadelphia, PA so my guess is that my SP7 is a Northern lady! And boy, oh, boy did she ever treat me right. Just look at the wonderful goodies I received: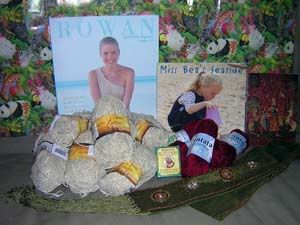 The picture just doesn't do the yarns justice. She sent:
10 skeins of Tivoli Linen (75%) with Cotton (25%) yarn, 50g each, purchased (according to SP&) when she was in Ireland. It's a creamy color but varies in thickness, giving it a nubby quality (but still keeps a softness).
4 skeins of Cantata Cotton Crepe DK by Fil Diamond Yarn, 50 g each. It' 100% cotton in a deep cranberry color
A bar of Badger healing Hand soap (Volcanic Pumice & Birch)...Fine Organic Soap for hardworking hands
Miss Bea's Seaside by Louisa Harding....an adorable photograph filled children's story with 10 fabulous knitting patterns for simple knitwear garments from Rowan, all using Rowan Denim.
Rowan Knitting Magazine Number 31....WOW!!! What utterly beautiful patterns and they are beautifully simple in style, casual, functional....I KNOW Alison is gonna want to get her hands on some of these patterns. I will have to pick something from this magazine to knit so I can use the Tivoli Linen with Cotton yarn.
Last but definitely not least....a truly beautiful green (silk/linen?) sash, beaded and fringed.
<SIGH> Can you tell that I am thrilled? I even love the wrapping paper that was loosely wrapped around everything (it's in the background....a cute animal design).
So to you, SP7 in Philly, I thank you so VERY MUCH! And I promise I will put the yarns and instructions books to good use, and will wear the sash at the happiest of times.