Catching Up!
I can't believe it's been so long since my last post. While the intention was there, procrastination won out. So....I will back post.
February 14:
Today was, as we all know, is Valentine's Day. I had fun with my class....we did some valentine math, graphing those nasty tasting wonderful candy hearts, sharing handmade greetings, and having a party courtesy of several generous moms. I work with ESOL children (English Speakers of Other Languages). Most are from low income families. Yet I received a few gifts from my little sweeties....candy - yeah, had to give that away, a Valentine teddy bear, a cosmetic case with Este Lauder samples (good ones, though) and my two favorite gifts....two pair of bikini underpants from Victoria Secret (oh, the tags were on so I KNOW they were new, and they were just my size and style) plus a loofah mitt; and absolutely beautiful coral roses (auntie works in a flower shop).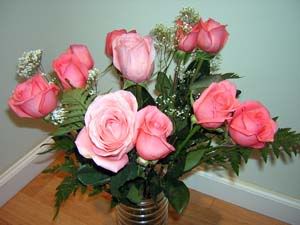 More than receiving the gifts, I love to see the faces of my students (kindergarten) as they hand their gift to me....they are THRILLED to get something for the teacher, and love the oohs and aahs and kisses I bestow on them.
Gerry and I were supposed to go to a nice restaurant downtown for dinner. We eat out all the time, but this restaurant is a little pricer than the ones we frequent. He called me at work and told me that he wanted to go buy a TV, so if I would go with him, we could then go to the restaurant where we had our first date. He was
being so romantic
appealing to my sentimentality, but I really didn't mind not going to the better restaurant as I could now stay in my jeans and sweater. Well, we never got the TV, and while it was nice to be where we had our first date, I wasn't enthralled by the meal (I think it was just me, not the meal). And it wasn't all that cheap, either! When we got home.....something was missing! There were no
rings, jewels
flowers. Yes, he had given me a card last night, but flowers would have been nice. When I nicely brought it up, he got on the defensive - "I took you out for dinner!!!" I tried to explain that even $5.00 flowers would have been nice. He is such a wonderful guy, but sometimes just doesn't give a thought to my sensitive romantic notions. At work, many of the staff receive flowers for special occasions. Mine has NO CLUE!! SIGH!