The Hits Just Keep On Coming!
Just got back from a week in Houston, Texas. We went there so Gerry could be seen by doctors at
MD Anderson Cancer Center
, a consultation for treatment following the surery to remove the melanoma he had in his chest. Let me tell you....this was a wonderful experience. No one wants to HAVE to go through this, but if you do, MD Anderson is quite a place.
We arrived last Sunday afternoon. We had booked the
Jesse Jones Rotary House
for our lodging. This is a hotel that cater to patients and their families, attached to the medical center. It's a lovely hotel. They have a patient services department. As soon as we were settled, they had us come down to register for the medical center (in the hotel), gave us an orientation and overview of the services at our disposal. They have someone who will research things for you, a reading and lending library, a patient to patient network so you can speak with someone who went through a similar experience, and more.
Gerry was given many tests...CT scans, xrays, bloodwork, opthamology exam. They determined that he is not a candidate for their clinical trials (wrong tissue type) and that he is "cancer free." That actually means that they can't
see
any cancer. He does have 3 little nodes on his lower left lung but they are too small to determine whether they are a danger to him. They have to be checked by CT scan every three months. While in Houston we did see two movies...Casanova and Glory Road. Casanova was a cute movie, but Glory Road was exciting and was a small window into the world of the ''60s in the south and all that went with it. We also took some time to see the
Johnson Space Center/NASA
. Gerry is a fan of the I did get some knitting done - on the plane, in waiting rooms, on car rides. In just a few short hours I made a hat from Vogue patterns...my FIRST Vogue pattern. Ok, so it was very easy, but it IS from Vogue. I got the pattern in a solicitation letter for
Vogue Knitting
magazine.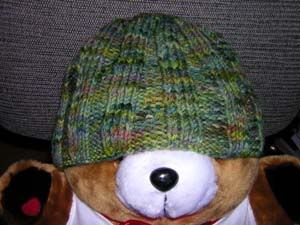 I also began work on the Basic Cardigan from Top Down For Toddlers by Deb & Lynda Gemmell. I used Shine Twist from Knit Picks. It's 60% Pima Cotton and 40% Modal, color Harvest. It was a gem to work with....very, very soft. I got to finish it when I came home, making the hat as well.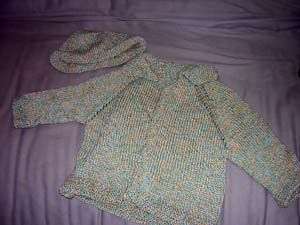 I finished Mom's Texture Shrug. It came out really nice, and I hope it fits her. This is the third shrug I have made from this pattern. I can't wait to retire it to my archives for a while.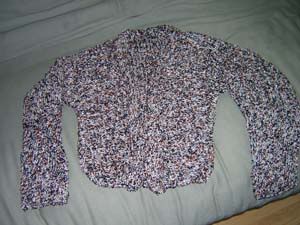 I am now working on Classic Cable and Hat from TDFT. I am using 100% Merino wool from Knit Picks, in cream color (Alison picked it out and put a condition on my receiving it...I HAD to make the Classic Cable sweater with it. The cables are a challenge for me, so I started on the hat, figuring it would be a little easier. Hmmm, we'll see!
As for me, I had my own medical experience. Ya know how sometimes you get a little stabbing pain in your side/ribs and you think it's just gas? It usually is and then goes away. I had that on and off for a few days, and then Wed night it "attacked" me at full force. I could barely move. It only hurt when I breathed in or moved. I was able to get into bed and slept all night on my back (and I am a side sleeper). The next morning I got ready for work. Suddenly I had to take a deep breath and I saw stars. I knew it wasn't a heart attack, but we drove to ER anyway. After some tests and two shots in my hip, I was sent home with the diagnosis - muscle strain. I have NO idea how I got that. Now I am taking a pain reliever and a muscle relaxer. The muscle relaxer works so well it relaxes my whole body and makes me sleepy. The pain is better but still hurts if I take a deep breath, yawn, sneeze or laugh.
And still more...After seeing Gerry's surgeon last week, we were told that Gerry has to go back into the hospital for 3 days. The dr in Houston found a pericardial effusion...water on the heart lining....of significant size. Gerry's surgeon looked at the CTScan and said it had to be removed ASAP. It's causing Gerry to have shortness of breath and chest pain. So he will go in on Wednesday. We are now hoping and praying that the fluid is not malignant, which IS possible since the melanoma was laying on his heart lining. The hits just keep on coming!
To all you Pittsburgh Steeler fans - congratulations! We saw the game today with friends who are MAJOR Steeler fans. I know you are all thrilled and eager to watch them in the Superbowl. Right now the other game is on. I have to root for N. Carolina because my son-in-law is from NC and his dad is a fan, but it doesn't look too good at this moment. But, as Yogi Berra used to say, "It ain't over till it's over!"
And this post is....over!