It's Big News!!!
Yes, I know this is supposed to be about knitting, but sometimes there are just more exciting things to write about. I couldn't post this until today, as I know that some of Alison's friends read my blog and I wanted her to post the news first. Now that she has, I can say:
SHE'S HAVING A BOY!!!!
On Monday I waited, not so patiently, for Alison to call after her doctor appointment/ultrasound. I knew she had a 10:30 AM appointment. I did go with Mom to her water aerobics class, somewhat under protest, but once I got into the water it was wonderful. The workout was tough (don't let yourself think that because it's for VERY senior people that it's easy) I know I will be hurting tomorrow. Of course, I had my phone close by, just in case it should ring....it didn't. I took it into the shower and sauna...no ring! Mom took me to lunch at Pei Wei. On our way, my other daughter Becca called...had I heard anything? I told her no, but we were all so anxious! FINALLY - just as we finished lunch, Alison called to give us the news. Typically Alison, she did her best to tease and hold off, but after a very LONG 15 seconds, she told us. Mom and I were ecstatic. After we talked, and then I called Gerry (he was SOOO thrilled, as he was hoping it would be a boy), Mom and I went shopping. Just look at the cute things I couldn't pass up: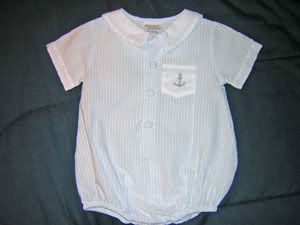 It's blue and white seersucker....sooo sweet!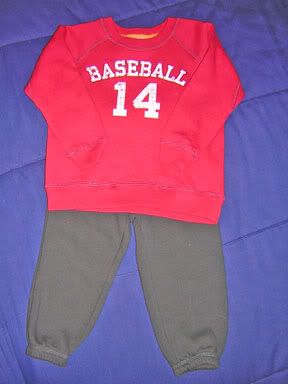 Size 24 months - sweats from Old Navy. After all....baseball is OUR thing, so the baby HAS to have baseball clothes. When I am in NY this weekend, I will be going to the official Yankee store and purchasing some Yankee garb for our wonderful future grandson!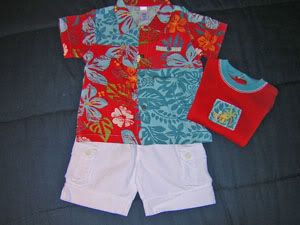 He just has to have this from his Florida grandparents, doesn't he?
If you want to see this darling (in utero) go here.
Thank you, Alison and Michael...you made our day!!