Thinking of Babies
This has been a "thinking about babies" week. Last Friday my cousin Ann called to tell me that she and her husband Ray had just returned from 6 nights in Russia, where they met the baby girl that they are adopting. They sent me photos, but I went over there Monday and saw a video of the baby. She is so adorable. She's 16 months old and they are keeping her name as she is called in the orphanage...Genia (pronounced Jenya) - it's short for Eugenia. The baby took to them immediatly, and when I look at pictures of the three of them together, there is no denying that this is their baby. And as cute as Genia is, looking at Ann and Ray's faces is priceless. I decided to make Ann a baby shower...after all, she's a first time Mommy, isn't she? We had to rush it because Ann and Ray will be notified soon to return to Russia to make the adoption final and to bring Genia home. So we are having it at her Dad's house on June 10th....nothing too fancy...Costco to the rescue. Just finger foods and a nice cake/cookies.Tuesday night before knitting Mom and I went to Babies R Us (where they are registered) and purchased our shower gifts. Then we went to knitting and Mom had a really nice time. She doesn't knit,but she came in very handy - I had her fold all the invitations and stuff the envelopes. Speaking of....Babies R Us gives cute invites. The previous night I filled out all 36 envelopes and the insides of ALL the cards...and then realized that I had used Ann's maiden name. So I printed out my own invites, using American Greetings, and then had to get new envelopes as the original ones were 1/4" too small. I started knitting a top down cardigan using Simply Soft by Caron, in white. However, when I got home and looked at it, for some reason it looked huge (but the gauge was correct). I frogged it and started again, using Bernat Softee in pink. I almost have the yoke done and then can divide for the sleeves, using dpn's to complete them.
On Thursday Ann called and asked if I would meet her at Babies R Us. I had free time so I did. It was fun to watch her enthusiasm for everything baby! This is so wonderful for her. She is 45 yrs old, first marriage and first child!!! While walking thru the store I came across the shoes below and couldn't resist them. These "ugs" are for MY grandchild. Look Alison...aren't they precious??? Now you can take the baby along when you and Michael go hiking. It's never too early to get 'em started!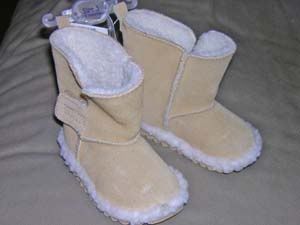 Before meeting Ann I stopped at Penelope's, a wonderful shop that sells gifts, toys, yarns, breads, teaches weaving, etc. They were originally located a few blocks from my house, but relocated about 1/2 mile away. They are not doing well there at all and are closing at the end of July. Right now they have a 35% sale. I bought these cute booties, below, and some things for my SP. Hoepfully they will eventually go to 50% + and still have some goodies left.