Received my first SP8 package today. My SP is a doll...she has been sending me e-mails to let me know the package was coming. And what nice things were inside: 2 skeins Cash Iroha Noro yarn in a beautiful shade of blue and so soft; 2 skeins of Debbie Bliss Cashmerino yarn, pale yellow - gender non-specific (to make something for my coming grandchild); a keychain from my SP's city's Mayfest - which, form the logo, appears to be the same as Sunfest here in S. Florida (Palm Beach); and a TANGLE - a twisty/turn it toy to occupy me when I am doing nothing, or at the computer, etc. Thank you so much SP8 - GREAT choices...and the yarn will certainly be put to good use (the twisty toy will come in handy as I will be working on another certification and it will keep me from pulling my hair out).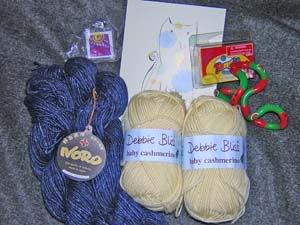 Gerry and I went to see the NY Mets play the Florida Marlins last night. It rained hard on our way there, but the rain stopped and, except for a little drizzle later on, the weather was very comfortable. The Marlins no longer have a very good following...I think there were more Mets fans last night than Marlin fans. We are not really Mets fans....GO NY YANKEES!!!...but it is a NY team, after all. The stands were not even half filled....very sad! But the Marlins did beat the Mets in the end. We were so tired we left after the middle of the 8th inning.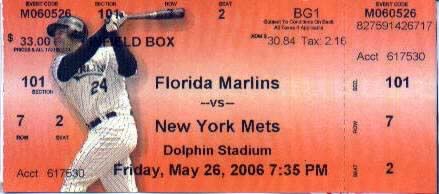 Yesterday was the last day of school. This year we have a wonderful 10 weeks off. In our county we usually have 9 weeks but for the past two years they took a week away from our summer to move up the starting date. Well, now these morons the county decided that we need to start a week LATER, so they added the week to our vacation. For those of you who say, "Those teachers.....they are so lucky! They get a whole summer off," come walk a mile in MY shoes (or better yet, in the shoes of upper grade teachers) and put up with 22 different personalities, learning styles, sets of problems, parents, plus administrators (thank goodness mine are great), school board policies that constantly change, etc, etc. This is a MUCH needed respite.
We had our End of the Year Luncheon yesterday at a restaurant called Buca di Beppo in Fort Lauderdale. The food was very good and the service was, too. This was also a send off to our wonderful principal Olivia, who was AP for 2 years and principal for 11. Given no say in the matter, she and another principal (from a school with poor academic rating) were given a last minute switch of schools. No one is happy about this, especially the two principals, but the superintendent, in his infinite wisdom, has deemed it a done deal. As Olivia says, "Our school had Camelot, now it will have Cama - little!" With Olivia goes many of our good upper grade teachers,almost our entire office staff, plus many teachers are either retiring, moving away or transferring out. Olivia told me to stay where I am until she gets that school into better shape, and I'm fine with that. In fact, I was now elected to be the new co-shop steward to our union. OY!
I gave my school SP her gifts on Wed,but could only give her one sock from the pair I am making her. I sat up until 1AM on Tuesday so I could finish at least this one sock, done in Knit Picks Landscape yarn, color Cape Cod, in the broadripple pattern. Then I searched ALL over my little house for the second skein of yarn so I could make the other sock. Today I found it where I had already looked twice. So...do I need a vacation? You bet I do!!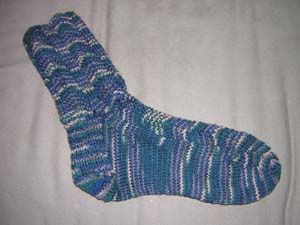 Two happy things to end my blog with: First, Alison is doing very well with her pregnancy. She saw the dr last Monday and the baby is moving fiercely, and has a very strong/fast heartbeat. Alison is feeling better each day, and can now feel the baby moving (tiny as it is). Each day I am so thankful that everything is going along well. Second: my cousin Ann and her husband Ray just returned from Russia last night, where they had gone to see the baby they will be adopting. They married two years ago. Ann is in her 40's and Ray just turned 50. With 3 children, Ray didn't want any more, but he loves Ann so much he thought and thought and decided that it was what he wanted too. Unfortunately, he had had a vasectomy, but he went for a reversal. Still, she didn't become pregnant. They tried in vitro twice, with no success. They had already started adoption proceedings, and after almost a year and a half and several delays, they finally got a picture and were told to fly to Russia. The baby is everything they hoped for and more. She is 16 months old, adorable, healthy and has a great personality. Ann said she took to them immediately. They only got to see her for 2 or 3 days. Now they are home, and they should get a court date by the end of the week. Then they will fly back to Russia and bring Genia Ann home with them (they were going to give them a name that they had chosen, but they felt that the baby is used to her name, so they added the middle name to the one she already has). The amazing thing is that when I look at the picture of Ann & Ray with Genia, it's as if this baby always was theirs. I can't wait until they bring her home. Have to get moving on making a sweater or two for this wonderful new addition to our family.