Friday in Manhattan

Friday morning I woke EARLY and took the METRO (train) into Grand Central Station, then a subway up to W. 67th Street, to the Special Music School, where I taught for one year in 2000. This is a NYC public school that was started with funding from the Elaine Kaufman Foundation to help NYC students learn while getting preconservatory music training. It's the best job I ever had (yes, Alison, I remember when you said..."And you're leaving, WHY?). But I had met Gerry a month prior to moving up to NY, and we had a year of flying back and forth, with me returning to FL at the end of that school year to be with him). If I had NOT met him, I'd probably still be there. Ok...water under the bridge!! I coordinated my trip to NY with the 5th grade graduation of the students I had taught that year. I still keep in touch with some (see previous posts). The graduation was lovely, and as each of my 8 former students gave their speeches, they mentioned my name. Afterward they, and their parents, were as excited to see me as I was to see them. I stayed to help with the little party they were having, and unfortunately had to decline several invitations to join them at the Cafe Mozart for lunch, as I had already arranged to visit another friend. (As an aside, my friend and author Regina told me that someone told her that there were MANY sites on line that mentioned her or her books, and when she googled her name and was checking out some of the sites....there was THIS site...MY BLOG....because I had written about the bracelet I was giving Miranda, her daughter!! Good thing I only had nice things to say, huh?...By the way...Miranda LOVED the bracelet).
Next I took the subway to Grand Central and went across the stree to spend 2 hours with an old friend/neighbor Leslie, at her office.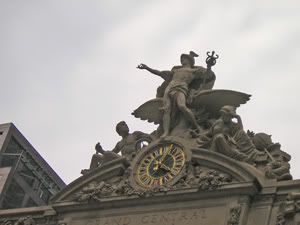 The NYC subways have lots of entertainment. I came across a group of break dancers...I swear they were the same group that was there when I was in NYC two years ago. You can see this group as you walk to get the shuttle from Grand Central Station to Times Square.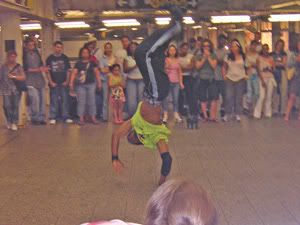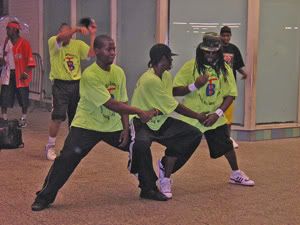 Some of the stations have lovely art work done in mosaic tile. This was at the 42nd street station in Manhattan, as I waited for the # 1 train.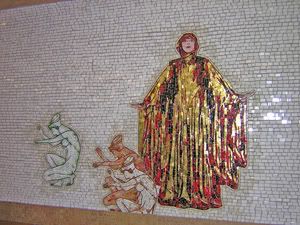 Then walked uptown to Fortunoff's on 5th Ave where I was sure I would find a piece of jewelry that I could buy with BD money from Gerry and Mom, but nothing caught my eye. Jon met me when I was done and we walked to Broadway (lots of walking that day...good thing I brought my flat shoes with me to change into). We ate at the Olive Garden. I was amazed at the difference in the prices from other cities...everything cost at least a third to half as much more. Next we went to see the show The 25th Annual Putnam County Spelling Bee. Our seats were fabulous...second row from the stage, which was seat level. It was hysterical. It's coming to FL this season and I plan to get tix to take Gerry...it's THAT funny. Walking AGAIN, back to Jon's office so he could get his laptop, walk to the train and fnally.....got home at 12:30 AM. Not bad for a "mature citizen."