Orlando Vacation
We started our vacation, as I wrote about before, in The Villages. Here are Becca and Phil in front of their new truck. It's a beauty and SOO comfortable. It certainly didn't feel like a truck, and I was sitting in the backseat. Aren't they cute?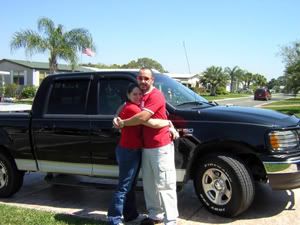 After lunch we went for a walk through the shopping area in The Villages, and they were having a sidewalk sale. There was only one place that interested me....the yarn store. Outside they were selling yarn in zip-loc bags, so I bought this one. It's called Reynold's Paris...80% Viscose (whatever THAT is), 20% cotton, 50 grams. I have NO idea what I will use it for...I just thought it was pretty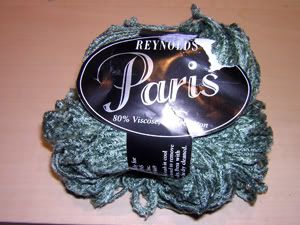 A day well spent in Universal. We went on almost every attraction we wanted to....Back to the Future (which I have been on many times before) and Shrek 4-D had lines that were just too long to wait on. We did get to ride The Mummy!, which is a roller coaster inside, and was great!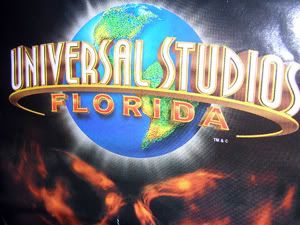 On Tuesday night we went back to Universal CityWalk. Most restaurants were wait-listed for 2 1/2 hours...NOTHING is worth that wait. So we were able to dine in Pastamores, a good Italian restaurant, and only waited 10 minutes to get in. Afterward we went clubbing...sat and listened to music in Bob Marley's Reggae club, listened to the piano players in Pat O'Brian's (a replica of the one in New Orleans), danced in City Jazz (first ones on the floor, and then others joined us), and dancing in Margarettaville (Jimmy Buffet's place) and once again we were the first on the dance floor, giving others the courage to get up and have some fun. Had a delicious raspberry margaretta. It wasn't strong at all....my gums never got numb, as they usually do after just 1 drink ( which is one reason why I don't usually drink)
I got LOTS of knitting done on this trip - in the car, watching tv, in the car. Here is the back of my chenille cardigan. I also finished most of the left front side. My only complaint about using this yarn (WOW! by SIRDAR) is that the cut end of the chenille frays and little fibers come off onto everything. But the knitted garment is SOOO soft and looks so pretty. Can't wait to finish it. I did do the back of my half sweater but won't post a pix of it here cause it looks like NOTHING. When it's done, then I will post it.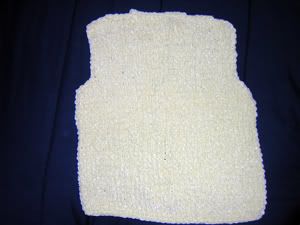 It is really nice to be home, though. Tonight we went to dinner and then to the movies to see The Upside of Anger with Kevin Costner. It was a really good movie about mother/daughter relationships (hmmm, think you might like to see this one, A. Talk about a difficult mother!!!) and it's also about how anger and bitterness affects one's life and relationships (hmmm, think H. should see it too).
Now, no apologies from me for being a mom tonight. Although the term "nagged" may be used by some, I did have to step in and request (not nag, request) that my daughter call the dr. because she hasn't been feeling good for a few days and nothing she has taken (over the counter stuff) hasn't helped (even the smoothies didn't soothie). So I gently pressed for her to call a dr. and perhaps get antibiotics. So, to please me (so she believes...it was really the little push she needed), my daughter called the dr., went in and was given strong cough medicine and an antibiotic. Hopefully she will get a good night's sleep and start to heal before she gets onto the ski slopes on Friday. Ok - listen, I can only do so much...she is, after all, an adult and cannot be told by me NOT to ski (although I really think she should stay in this weekend, but I'm not going to say a word, not one word!!).