Oh! What a Wonderful Show!
Tongiht we went to see the Broadway series show Oliver! at the Kravis Performing Arts Center. It was a wonderful production. Gerry had never even seen the movie so it was fresh for him. We first went to eat at a steak restaurant in CityPlace, West Palm Beach, an area with many stores and restaurants. Then we walked back to the theater. We have a subscription this year and really good seats. We are debating as to whether or not we will renew it for next year. Any show that I don't want to see I can easily sell the tix at face value.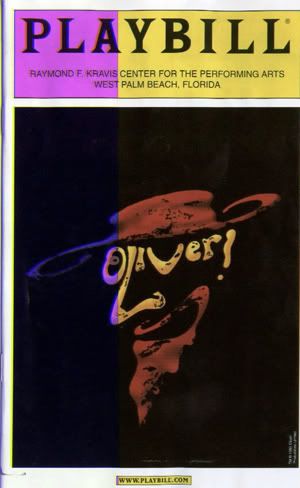 We took the new car up and I got to make my first (2) phone calls using OnStar. It's hooked up with our Verizon cell phone accounts. So of course I called my daughters Becca (who was not home) and Alison (who called back). It's such a cool system - you press a button on the rearview mirror and the radio talks to you, asking what you want to do..."dial"...and the phone number. I love techology.
A big thank you to Noreen (http://noreensknitche.weblogs.us/ ) who is in the FiberRAOK that I am in. She offered to make a pair of socks to the person who wrote an "essay" that said why they are deserving of the socks, and I "won." She was so sweet about it and I am looking forward to getting a handmade pair of socks. Speaking of....I am also expecting my sockapalooza socks any minute now. My "pal" wrote and told me to expect them. I sent the broadripple pair off to my "pal," yesterday. Can't say more about that until I know that she received them. This is just so much fun!
Went to my SnB group yesterday and as always, had a good time. I started the half sweater using Debbie Bliss Angora Cotton. I tired out the bamboo needles but the yarn doesn't slide well on it. I switched to circular, which was ok, but when I came home I found that the aluminum was pretty good. I hope to finish it this weekend on our ride to Central Florida, for my spring break. I will also bring along yarn to start another project, maybe the chenielle cartigan by WOW! We have reservations to stay in Orlando Sunday night until Wednesday, but we are leaving Friday after work and staying at Gerry's brother's house in The Villages until Sunday. Becca and Phil will join us for brunch on Saturday...can't wait. I always love seeing my girls. Phil has a new Ford 150 pickup truck so we will introduce our new cars to each other.
Thursday is a half day for my students. After our little Spring party, they leave at noon and I get to go to lunch with my coworkers/friends. Then it's back to school to fill out report cards and do other things for my class. Friday morning is a 3 hour training (where I will sit, listen and knit), finish up in my room and then....free for a week!!!! Gotta love teaching!!!!!