What a WONDERFUL Coincidence!!
I was waiting for my package from Sockapalooza and it arrived today! As soon as I saw the return address, I had to laugh. My sock "pal" was none other than my daughter's friend Illana from Arizona. She was given my name by the Alison (knitsmits) who is in charge of Sockapalooza and Illana and my daughter Alison kept the secret the whole time. What makes it even funnier is that I was reading Illana's blog some time ago and commented to her that I loved the socks she was making, as displayed on her blog. Those were the socks she sent to me!!! She also sent more of the same yarn and three adorable stitch markers, two that look just like my socks. How wonderful! I can't wait to do sockapalooza again!!!!!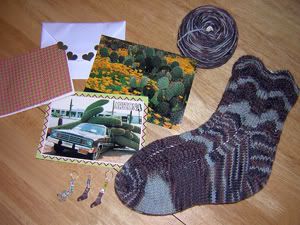 Gerry and I are heading to Central Florida RIGHT NOW! In the NEW CAR!!! I have my knitting packed, and another project, too, in case I finish the first. Tomorrow I get to see my younger daughter Bex and her husband Phil - we are meeting for brunch near Leesburg. Gerry and I are spending 2 nights at his brother's house (ours for the using). Then Sunday we go to Orlando. My friend/coworker Shawn will be in Orlando with his fiance Michelle. They just called and asked to see us Sunday night. Since we are going to their wedding on May 1, I guess it would be nice for them to meet Gerry, huh? So I said yes, details to be worked out later.
Ok. ok.....listen, gotta go. Ger has the car parked, motor going....guess he's eager to get out of town. Me too! Have a GREAT WEEKEND!!!