Showers of Happiness
This past weekend was Alison's baby shower at her home in Marietta, GA. It was given by her best friend Ilene, who lives in Central Florida, and Alison's sister Becca, also in C. Florida. They did such a marvelous job getting it all together. Mom, Gerry and I flew up to Atlanta Friday night. Once we were picked up by Phil, my son-in-law, the fun began. He drove us to our hotel, we got settled in and called my brother-in-law Jim and sister-in-law Pat, staying in the same hotel. As they arrived in the lobby, so did my son-in-law and Daddy to be Michael with his parents. We all sat and had a really nice visit. The next day was the shower. Alison looked radiant. Since I had last seen her in July, her tummy changed. Aside from having gotten bigger, you could now see that the baby is all to the front of her (and her back ache is testament to that fact). But I swear, I have never seen Alison look happier or calmer than she did on Saturday. Her friends arrived, some I had met in July, some were new to me. They were the nicest group of women. I am so happy that Alison made such good friends in the year she has lived here. The men left - they went to watch football at a local sports restaurant, and we got down to business....eating the great spread that I & B set out, talking and getting to know one another. Then it was time for the best part - watching Alison open the gifts. She got some help from Blue, her dog who loves to open gifts (he thinks they are all for him). Orange, her other dog, was fairly content to sit back and let Blue do all the work. Oh, you can't see it but Blue (and Orange) were wearing matching T-shirts that said: (Orange) - I'm the BIG Brother!....(Blue) - I'm the BIGGER Brother! They LOVE their shirts! What fun....each gift was beautiful and totally useful. Everyone was so generous and good to Alison, and as the Grandma to be, I couldn't be happier.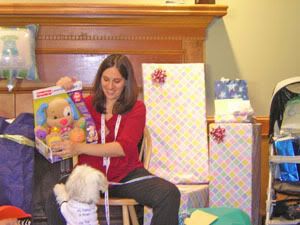 Phil and Becca surprised
Alison
and Michael with an original design, hand crafted rocking motorcycle made by Phil. I knew about it but was amazed when I saw it.
Alison
and Michael are major University of Florida fans/alumni....did you ever see anything so amazing in your life? Phil is unbelieveably talented!!!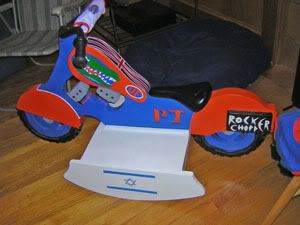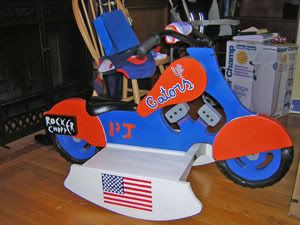 When the shower was over and we rested a bit, the whole family went out to dinner. There were 12 of us and again we had a lot of fun.
The next day Alison and Michael threw a brunch for the family before we left town for home. It was relaxing, and gave me a little more time with my girls. Here we are, the whole fam damily, backrow, from left: Papa Gerry (my hubby), Grandpa Lennie and Grandma Karen (Michael's parents), Great Grandma Ruth (my mom), Grandma (THAT"S ME!!!), Uncle Phil and Aunt Beccca, Alison's Uncle Jimmy; front row: Alison's Aunt Pat, Alison and Michael.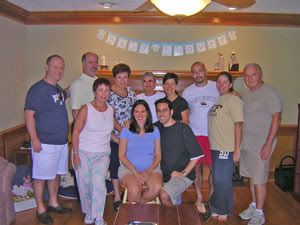 The next time I see Alison and Michael, they will officially be a Mommy and a Daddy! Counting the days!!!!