A Short (?) Update
A quick vent: I had a lousy week, have not felt good in over a week. I spent the Labor Day weekend at home with a very sore throat, laryngitis (my throat still sounds "funky"), taking antibiotics and antihistimine, and doing tons of schoolwork. But....this much aniticipated weekend is here and we are flying to Atlanta tomorrow night for Alison's baby shower tomorrow. I can't wait to see her and her growing tummy, see Becca and Phil and Michael, as well as my brother-in-law Jimmy (my ex's brother) and sister-in-law Pat, who are making the 5 hour drive from Ocala to attend.
In the meantime, just had to post: the vest that I made for my friend Carla's 2 yr old son. It's made using a skein of Caron's Simply soft. I love it....easy, fairly quick and came out so cute.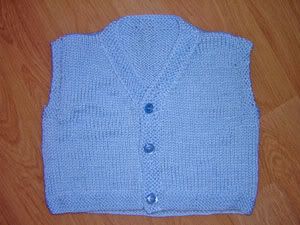 When I came home yesterday there was my SP8 package waiting for me. Emma was my SP and she was terrific. This last package was wonderful as she had sent a knitted kimono for my grandson, and wrote that it "is the first-ever non-sock, non-scarf garment" that she had ever made. Well, Emma, you did a GREAT job and I can't wait to give it to Alison!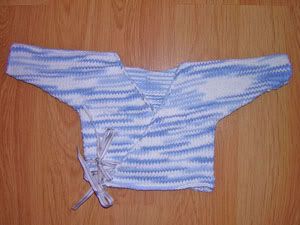 Emma also send BEA-U-TI-FUL laceweight yard - Suri Elegance by the Alpaca Yarn Company...it's 100% Suri Alpace in the most beautiful shadeof light green....oooo, it's sooooo soft. Thanks so much, Emma!!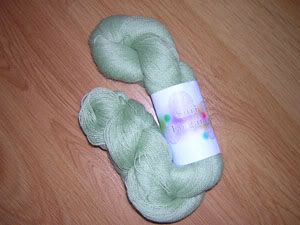 Last but not least.....last year my school participated in a Wellness program. We had vital signs (weight, blood pressure, cholesterol, etc) taken at the beginning and the end of the school year. At the end, the school with the best health improvement won a nice check (beside winning good health). We had to decide what to do with the money, and it was a unanimous vote to send it to Oprah Winfrey's Angel Network for victims of Katrina. When school began this year, our Assistant Principal showed us the letter that she received from Oprah, along with Oprah's picture. The letter and picture will be framed to hang in the main office. We were all so delighted to have received this from Oprah, but more important, we know that every penny that we donated will be going to a wonderful cause. The letter says:
Thank yoy all so much for your generous donation. I wnated to send you a special note of congratulations for winning the award for the Healthiest School! Education as you know is of the utmost importance to me and I celebrate with you in this very fine achievement. your donation means a great deal to me and my Angel Network organization.
One of our big projects is to help the victims of Hurricane Katrina rebuild their lives, and your contribution will certainly help us do that. You can be assured that 100% of your gift will be used in a way that will help many people in need.
May you continue all your lives to listen to your hearts and do good things for others. I truly wish you the very best of luck in your future, and applaud and encourage your hard work in school. Education is power, and you're all off to a great start!
Blessings,
Oprah Winfrey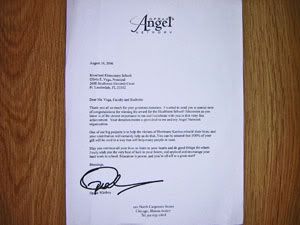 How cool is that?!!