Hell Froze Over...Pigs Flew...
Ya know how you think something is NEVER going to happen, and then it actually DOES happen?
This weekend was amazing. To start...my youngest daughter Rebecca graduated from UCF (University of Central Florida) on Friday. Now, I knew she would, but when it became official, it was a wonderful feeling. Becca worked very hard, beginning with community college, on-line courses, and senior college. While going to school, she also worked full time. Lucky for her, she has a WONDERFUL husband, Phil, who was very supportive, loving, patient and helpful. Gerry, Mom and I drove to Orlando Thursday night and checked into the only available hotel I could get (booked only last week)....The Days Inn UCF. Now I will admit it was clean (mostly) and had a great shower, but Gerry swears it was a hotbed for drug deals. I poo-poo'd the idea Thursday night, but in the light of day on Friday...ooooh, yea!!!! So we didn't hang around, but left early for the graduation. Luckily, Phil had gotten there early, with Becca's dad (Hank) and his wife (Penny). The seats were really good. We watched the processional....poor Becca was in the last row to enter - but at least we could see her the whole time. The one speaker was very good, and the ceremony was well organized and not boring at all.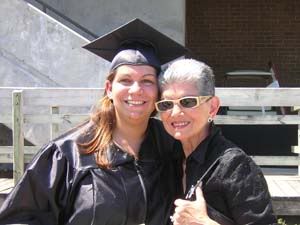 Becca and her proud Grandma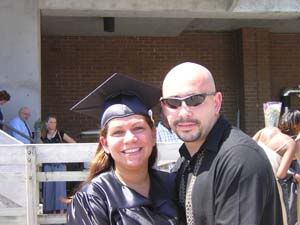 Becca and hubby Phil
Afterward, we waited downstairs for Phil to find Becca. And that's when it happened....hell froze over!!!! Becca's father has not spoken to me in almost 6 years (bad divorce and all that). His wife and I have had nice conversations, but he just wasn't ready. However, on Friday, as I was talking to his wife Penny, I turned and included him in the conversation, and he responded (in nice way), and that was all it took. Oh, we didn't say too many words, but all were civil, and I was happy with that.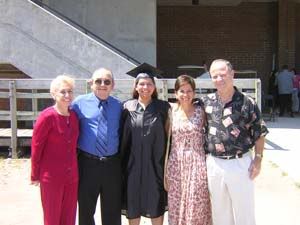 I did invite them to join us for lunch, but they were hosting the party for Becca the next day and said that they had lots to do. They did meet us back at the den of inequity hotel and picked up the cookies I had brought from S. Florida.
Mom, Gerry and I took Becca and Phil to the Cheesecake Factory (Becca's choice) in the Millenium Mall for lunch. Then we stopped at Tiffany's so Becca could redeem the GC that we gave her as a gift. She added my mom's gift to her and picked a beautiful necklace, earrings and ring by Paloma Picasso. We then went back to their house in Ocala to relax for the rest of the night.
Saturday the party was at the Ocala Hilton. The room was lovely, the food was great. A quick hello to Hank at first, but as the day wore on we spoke more and more. Eventually, he was my "new best friend." I am so happy that the animosity is finally gone, especially for Becca's sake, and all those around us. It's such an uncomfortable feeling for friends and family when there is dissention among people you like. I don't like people to have to "choose sides." I know this wasn't easy for Hank, and I am really proud of his coming to terms with his feelings. Now when there is a family function in Ocala, no one has to worry that there will be "icicles" in the room, ill feelings, etc. And being the Pollyanna that I am, I want everyone to get along. We left Ocala happy, proud of Becca, full of good fattening food, and a new feeling of ease!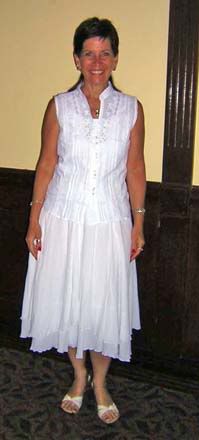 Me at the party