Knitting and Flying Around the Country
I tried to post some info last week but somehow, it got lost in cyberspace, so here goes again...
For the past two weeks I have been working on making a present for Gerry. It's fairly warm here in S. Florida so he really doesn't need another sweater, so I decided to make golf club covers for his clubs. He isn't playing golf right now, but they don't go bad so I figured, what the heck. I had several skeins of !00% Peruvian Wool from Knitpicks. Each cover took slightly less than 1 skein (110 yds/50g). The numbers were done with some left over merino yarn, color vanilla. I think they came out really cute. Of course, after giving them to Gerry, he did say thank you and exclaimed over them, but added, "I guess I should throw out my Notre Dame club covers, huh?" I didn't know that he had ND covers (like, that's important to me?). I know he didn't realize it but the dummy guy hurt my feelings just a tad. Doesn't he know that he didn't have to say that? That if he were ME, he would have said, "WOW - these are great!!!" and then used whatever covers he wanted to use. Oh, well....MEN!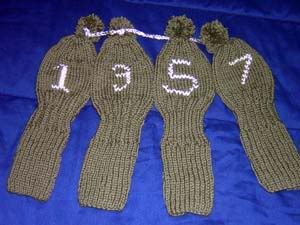 Mom an d I visited with Alison and Michael last weekend in GA. Mom had never been there before. She LOVED their house, which is truly beautiful. Now, my mom is honest to a fault and won't exclaim over something if she isn't impressed or delighted. Well, all I heard all weekend was how wonderful the house is (can't argue with her....it is, it is). We had a wonderful time. We took Mom to IKEA. She had never been there before and really enjoyed it. We even had a good, inexpensive lunch there. Saturday night we watched Blue Collar Comedy, a DVD with four funny "Redneck" comedians. On Sunday we kinda hung at home and at night watched Robin Williams on Broadway. Again, Mom really enjoyed! She may be 81 but she looks like she's 65 and is very "with it." Alison took the time to teach me Fair Isle. Below is the hat that I made (it's not blocked yet). It took me about three days. I am SO proud of it! There is a method to this madness....I promised to make Alison a sweater for her birthday (the big 3-0) so she said she wants a Fair Isle pullover. As soon as she finds one that she likes I will get started on it.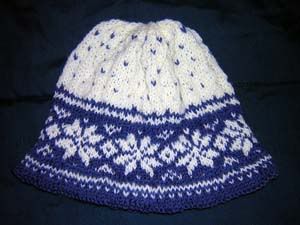 We left on Monday, after some fun shopping. Thanks, Alison and Michael, for such a great visit.
On Tuesday Gerry and I flew to Houston, TX. He goes every three months to MD Anderson for tests and a dr visit. It was a quicky visit....in on Tues night, tests all day on Wednesday, see dr on Thursday and leave. We did get to go to Rice Village, a shopping area at Rice University, where we like to eat at Jason's Deli (don't have it here in S. Florida), and got to the Galleria for an hour of just looking around. On Thursday the doctor told us that as far as he can see, Gerry is cancer free and doing well. The treatments that he is taking now (interferon shots at home) make him very, very, very tired, but that's to be expected. Otherwise, he's great! On the way to the airport we got to see my cousin Richie, who lives in Houston. An added treat, to be sure.
When we got home, (and after giving him the golf club covers) Gerry was lamenting that he didn't have a chemo cap. While I pointed out that he luckily didn't NEED one (he hasn't lost any hair), he said it didn't matter....he had cancer and was going thru a treatment, so he wanted a cap. So, I pulled out the newly made Fair Isle hat and told him that he could consider it his chemo cap. Look how happy he looks!!! (Tiemann doesn't look too thrilled,though).