Goodies and Movies
Today was SP package day. My lovely SP7 from PA sent me some goodies....a skein of REGIA yarn. It's 75% New Wool and 25% Polymid, 100grams, in realy nice shades of black, gray and blue. Plus a set of Bryspun DPs size # 2 - guess I'm gonna make some socks!....a pack of YANKEE Tattoos (LOVE the Yankees - will have to wear a few for opening day)...and....here's the best...she sent me HOMEMADE Raspberry preserves...and yes, SP - it tastes GREAT!!! Raspberry preserves, raspberry anything, is my favorite!!! So...thank you, thank you, thank you (mmmmm, good)!!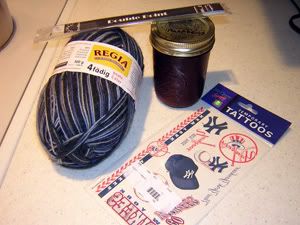 In a previous post I showed the wonderful blanket that Alison made for my husband, Gerry, who is undergoing treatment for melanoma. But our dacshund Rusty seems to have taken it over, at least, when Gerry isn't on the couch! Have to admit, it's a really warm and cozy blanket, right, Rusty?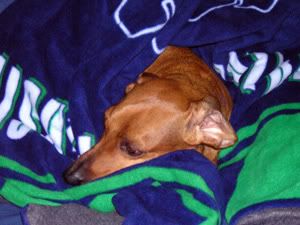 I got it!!!! It didn't take long for RENT to come out on DVD. I think it was only a smash hit with RENT fans, of which I am one. Saw the show 3 or 4 times, and even though the movie is slightly different, I love it. So of course, I had to have it immediately!!!

This weekend Gerry felt pretty good, since he has off from treatment. We did two movies (ah, seems like old times) this weekend. On Saturday we went to the Museum of Discovery and Science in Fort Lauderdale to see the new IMAX movie Deep Sea 3D. It was great. You feel as if you are really under the water with all the sea creatures. I love it (uh, Alison....you might want to skip it).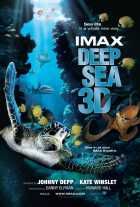 The movie was followed by dinner out. We were going to go to Dan Marino's Steakhouse near the museum, but Ger wanted steak at J. Alexander's in Boca Raton. What a dumb unfortunate decision, as the wait was 80 - 90 minutes. The Outback was a 70 minute wait, so we settled for (and enjoyed) Roadhouse....the wait was only 30 minutes! Trying to eat out in South Florida this time of year is a big mistake difficult with all of the people who flock here during "season" (snowbirds).
Friday night we did see the movie Freedomland....it was just....OK! Nothing to write home about...so, I won't!