Better Late Than Never!
I received a most welcome package today from my SP6!!! She had sent me lovely gifts during SP6 time, but contacted me and said that there was still more to come. I got home today, and her it was...an amazingly soft yarn, presently
Kate
's favorite (
Kate
was my SP6).It's from Brooks Farm, Lancaster, Texas. This is a 4 ply yarn blend of 50% fine wool - 50% silk, 270 yds. Kate is making a scarf out of it - I'll have to use it for something wonderful as it's just too beautiful for just a whatever! The colors are shades of beige, brown, and khaki greens.
Kate
, this was WELL worth waiting for! I just LOVE it! Kate spins and dyes yarn. You can see and order her handiwork
here
. Her yarns look yummy!!!! (oooo - now I can finally use my swift and ball winder and make a "cake."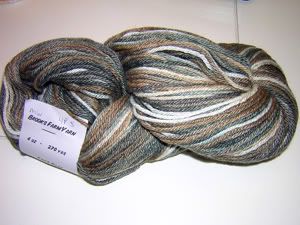 I am looking forward to going to Marietta, Ga in April with my mom, to visit with Alison and Michael. While there (if you recall) Alison will teach me Fair Isle knitting - and get me started on a sweater for her 30th "once again" 29th birthday.In the meantime, I just couldn't have empty needles, so I knitted a sweater for my friend Carla's baby boy, coming in May. It's the basic cardigan from Top Down For Toddlers. I knitted it on my new size 6 Addi Turbos....what a PLEASURE!!! They make the work go so much faster!!...and used Bernat Softee Baby in a lovely Baby Denim Marble, finished off with little white heart buttons awwwww.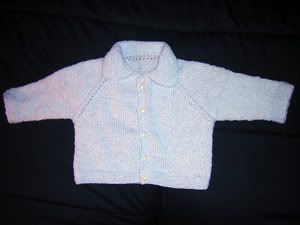 So glad it's Friday. Every day I work late - I ALWAYS have stuff to do in my classroom and it never seems as if I will finish. I had intended to leave on time yesterday, at 3, but got into a meeting with one of our curriculum specialists and finally got out at 4 - and just made it before closing time to get a desperately needed haircut. Today I made sure to have "lunch bunch" with my students, so I could run like hell get out at 2:30.
Every year I buy tickets to see the show at the high school that Becca attended. Olympic Heights puts on musical theater that is close to Broadway standards. The kids are SO talented, the sets and costumes are very professional. This year 14 of us are going to see Mame!! When Becca attended OHHS she was in the theater group, and I used to run the consession during the show, with the help of her father. Now I am just a spectator, but it makes for a very enjoyable evening!