Still Busy, But It Was All Good!!
With plane delays I got in 1 AM Friday morning, arriving 10 minutes after Gerry's niece Lori and her friend Giovanna arrived. They had come for a 5 day stay.

Lori, Giovanna and Suzzette (Gerry's daughter)
Later that day Gerry and I drove to Central Florida to attend the NASCAR race in Daytona on Saturday, with our friends. Everything was going great....relaxing day, got some knitting in (made an adore able pink baby sweater from a pattern that Alison gave me) and got to the race 2 hours early instead of the usual 5. However....and there is always a however.....there was a rain delay....the race didn't start till 10:30. The sitting around (under the stands) was horrible, the rednecks got red-neckier, lots of drinking among them, the sellers ran out of food...not fun at all. The race was great, and I got a lot of good knitting in while sitting there (started my sockapalooza socks). But I told Gerry that this was IT! I am done with the July Daytona race...it just isn't fun for me anymore. I will go to the last race in Homestead, Fl in November....we make a nice weekend out of it, and the race is a daytime race, but...I am DONE! And he fully understood...such a sweetheart of a guy!
The rest of the holiday weekend was good. We had a huge BBQ at our house on the 4th - I ate too much. Then we went to the beach where, sitting on the sand, we watched the Grucci fireworks for the 4th. We were so close, it was as if they were shooting them off just for us.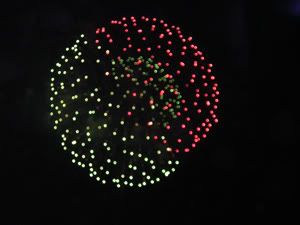 On the 5th, Lori and friend left and my 14 yr old niece Gianna and her friend arrived (two trips to the airport for me that day).
We had a nice week. I got to go to the beach with Lori before she left, and then twice with Gianna and Jessica. Even though I was already tanned, I got REALLY, REALLY RED on the spots that my other bathing suit covered up.....OUCH!! But what great color I have!
The wind was up and the waves were really high due to the coming hurricane, Dennis, but the girls (and I) enjoyed the beach (I live really close to the beach but only go when Gianna is in town).
Saw a good movie....Mad Hot Ballroom....sort of a documentary about underpriviledged 5th graders in NYC competing in ballroom dancing. A feel-good movie, to be sure.

On Saturday I drove the girls to Orlando. We dropped off Jessica, who wanted to spend two days with her aunt, and Gianna and I continued on to Ocala to stay with my daughter and her husband, Phil. Gianna LOVES Phil - she did a school report and named him as her favorite relative not outside of her immediate family. Sure....did I even get a mention? NO! Her favorite aunt, who takes her to fun places every summer....not even my initials mentioned!! But I don't blame her. Phil is a really fun guy! The 3 of us went to Universal Studios, and since it was around the time of hurricane Dennis, the parks were not crowded and we didn't have to wait long to get on the rides. We even went to both parks and got to go on the attractions more than once. Look how much fun Phil and Gianna were having together.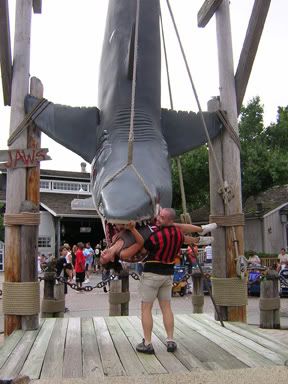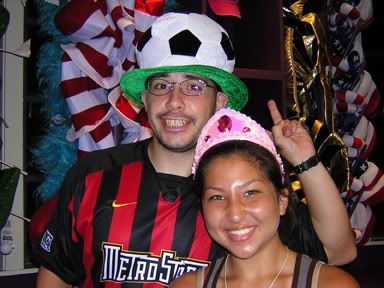 So now the girls are gone (flight was this morning) and I am looking forward to some relaxing time with Gerry in the evenings or just doing my thing - starting with my knitting group tonight. Last week was great - we were joined by a crochet group. Hope they will be with us tonight. And my knitting buddies and I are joining together to make a bear with several outfits, to be given to one of the women who just had a baby. I will make the sweater and jeans outfit. In the meantime, I am working on broadripple socks, and starting a textured shrug using Electra and Clea....same style as the pink one I made, using the yarns that came in the kit with the pattern. I also bought Electra in browns to make one for my mom, but have not found the Clea yarn at several LYS - and to order just one on line is ridiculous, as it costs more for shipping than for the yarn. So....if you have an extra ball of Clea in beige or white, I would be happy to buy it from you.
Whew....had enough? I have....time to finish the laundry, set up my knitting bag and get ready to go!! AH....there's no place like home!!