Dying for Fun
Sunday morning we got up early and started preparing the yarn that Alison bought from
http://www.knitpicks.com/
. She got white Peruvian Wool and 100% Merino wool. We set up many flavors of Kool Aid and the cheaper version...Flavor Aid. Then we went to work: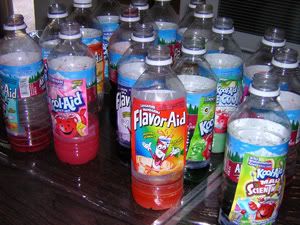 Here is Alison busy putting color into her yarn. It really wasn't that hard or messy, just a bit time consuming...well, we DID dye 5 skeins each! The hardest part was coming up with color combinations that we wanted to use, but in the end, I think we did very well.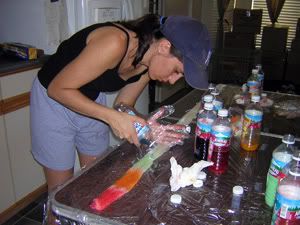 Here are the skeins all dyed and laid out in the warmth of Arizona to dry. Unfortunately, they didn't, so later that night we hung them in the garage on the bike hooks, from the ceiling, and by morning they were ready. They literally drip-dried. The colors took really well.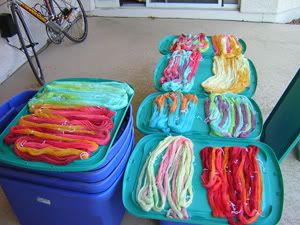 Before we walked away, Alison, ever the photographer, took pix of the yarns. I did, too,but she REALLY gets into it and takes beautiful pictures. Here she is with her professional camera, while I use my little Nikon Cool-Pix 2100...good enough for me!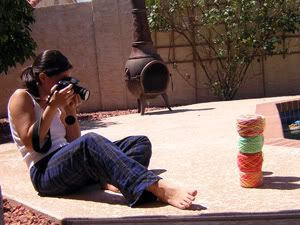 And this is one of my favorites....Alison's Rainbow Skein! Just look how beautiful it is. I can't wait to make some socks and maybe try my hand at felting with these yarns. Imagine - being able to say I dyed it AND knitted it. How cool is that!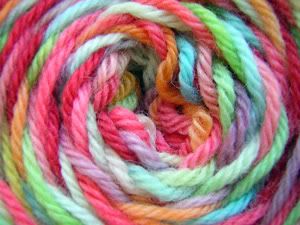 But the BEST part of it all was just spending the time, sharing an interest with my daughter. With the distance in miles we don't get to do that all that often. Now that they are moving to GA, while still a bit far, I will get to spend more time with her. She is making her mom so happy! For those of you who are moms, you understand. For those of you yet to be moms, you WILL know that feeling one day, and it's wonderful.
OH, OH, OH!!! And SHAME on me! I forgot to mention a wonderful moment....my daughter created a knittinig pattern for Southwest Trading Company http://www.soysilk.com/. And they sold it to a national knitting magazine. PLUS - Alison test knitted a pattern for them and it will be featured in Creative Knitting magazine. Are my buttons popping or what??