Can't Fight This Addiction
Since I didn't have enough yarn to finish the pink sweater-shrug, I made a practice hat for my friend's son, Parker. It's a simple pattern, using Caron Simply Soft yarn. If it fits and his mom likes the hat, I plan to make it in wool, for they live in NYC and it gets really cold in the winter.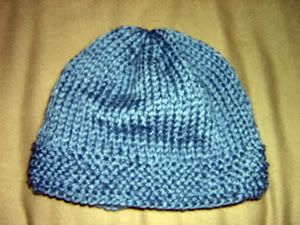 I recently found out that Tuesday Morning, a discount store, sometimes carries yarns. I went the other day and sure enough, they had several packages of Lion Brand Cotton-Ease, 3 to a pack. The toughest time was in deciding which colors to get. They were so reasonably priced, and I know they are discontinued by LB, so I bought these lovely colors. I'll probably make some toddler sweater sets with them, to put away until needed. I called Alison to see if she wanted any, but she had already hit the TM shop in AZ and got some of the same colors, and of course, orange to go with the blue (Go, Gators!!)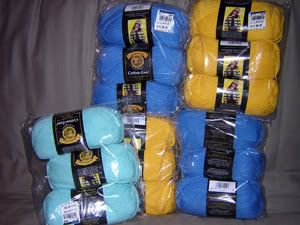 Now if I only had a place to PUT all of the yarn that I buy!!!