It's DONE, It's DONE - YIPEE!!!
Look what I got yesterday. I had a coupon for JoAnn's on-line sale and got this book at half price. It's beautiful, with lovely patterns for a grandma (in the future) to make. I also bought a Chibi with small needles but it also holds my heavier yarn needles.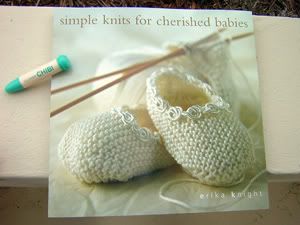 YEA!!! I FINALLY finished the sweater shrug that I had been making for my friend Laura. I call it the Sweater from Hell! Was the pattern hard? No - except there was ONE LINE left out....when starting the left front, it should read: Cast on a NEW NEEDLE. now to some of you that would be obvious, but to literal me, it wasn't. So I had knitted the left front TWICE. Luckily, it frogs very well. I had hoped to finish on my way to AZ but ran out of yarn. I called my LYS and the day after I arrived home, I picked up a skein. The next weekend I flew to OKC...ran out of yarn again. Came home and got two more. Ran out AGAIN....got two more on Wednesday and today returned one untouched (actually exhanged it for a same priced circular needle). I thought I had finished it while at the yarn store, but got home and realized I had one more step to do. Well...it's finally done! I gave it to Laura tonight and she loved it. In fact, we went to dinner with our other friend Sherry and my mom, and then to a show (see below) and not only did the three of them love it, but Laura got many positive comments on it from strangers in the theater. I was so happy that she liked it. It's so hard when you make something for someone and they are not on the spot to try it on, etc. But it worked out well. Now I am going to work on the pink baby sweater, cause I love making baby things.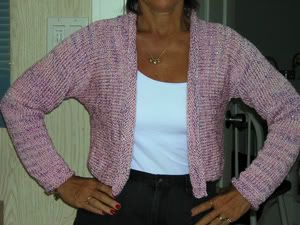 Yesterday there was a package outside my door, beside the book from JoAnn's. It was a surprise from my SP5. She rocks!! she sent a package of Trendy Wendy Powdered Bath Soap, 5 skeins of Austermann Peru Gold der Anden (Peruvian yarn that is 70% Baby Alpaca and 30% Feine Merino and is ooooooo so soft. I LOVE it!!! Plus a tin of Green Tea Wild Cherry. Can't wait to try it. Thank you SOOOO much, SP5 (and I LOVE the color of the yarn).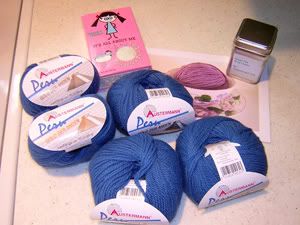 As I said above, tonight we went to dinner and a show. The show is Modern Orthodox. It was at the Caldwell Theater in Boca Raton, Fl. They have very good shows there but it was my first time. The star of the show is Benim Foster, who is the son (and very actor) of my coworker/friend Arlene. After the show he came out to say hello to us. He is such a warm, sweet guy - good looking, too!!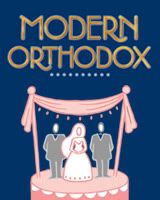 Yesterday Mom and I went to see another show...Cabaret. I really didn't expect all that much, but the show was great...the actors were great...the dancing was GREAT!!!! We really enjoyed it!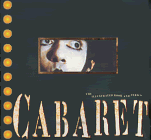 Tomorrow I have lots to do....manicure, pedicure, stop in at LYS that has 40% sale (they are closing - discount is 50% in July), and packing...yes, we are leaving AGAIN. We are flying to NY/NJ....Sunday is Gerry's great-niece's christening. My brother will join us for the weekend so we get to see him too, and on Monday, when Ger flies back to FL so he can work the week, I am staying with my dear friend Carla, her husband and adorable baby, for a few days. So ...I will not be blogging for about a week. Have a good one (and thank goodness that pink sweater is done and gone!!).