A Need to Remember, Things Sad and Great
Saturday June 18...In OKC we went to the Memorial to honor the victims of the Federal Building bombing in 1995. It was a profound experience, both sad and uplifting. Sad to realize how some people can inflict such pain and loss on innocent people, and uplifting to learn of those who selflessly gave of themselves, the outpouring of love and care from around the world, and the knowledge that we as a nation can work together to overcome terrorism. Gerry stood at the fence where there are countless trinkets, notes, pictures and other memorabilia to the victims. He stood in almost the exact pose when he went to the site of the World Trade Tower destruction several years ago.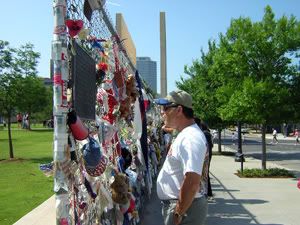 There is a museum at the memorial, where outside a wall was constructed using tiles of children's drawings, on one side, and tiles of children's handprints on the other side. Children from all over the world expressed their feelings in their drawings, and it was fitting that this was one of the displays since many children lost their lives that day while in a day care center in the Federal building.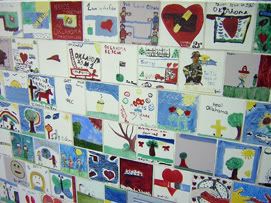 We walked through the museum, reliving that day. There was a recording of a hearing that took place that April 19th morning in a nearby building, that captured the explosion caused by the bomb. It really put it all into perspective, and brought tears to my eyes, as did the other films and stories that followed. On the next floor, there was a room covered with photos of all of the victims. Gerry and I walked in and immediately walked out....way too emotional for either of us to take (he's very sensitive when it comes to poeple suffering/dying). All in all, it was quite an emotional experience, but one that we felt was important to go through.
The night before we went to Bricktown, an area of OKC that is being developed with restaurants, shops and river ferry rides. It is by the local ball field where the OKC Redhawks play. And the streets are filled with reminders of Mickey Mantle, the Oklahoman who is my husband's hero.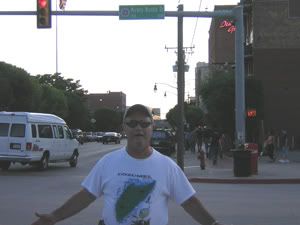 Sign says: Mickey Mantle Drive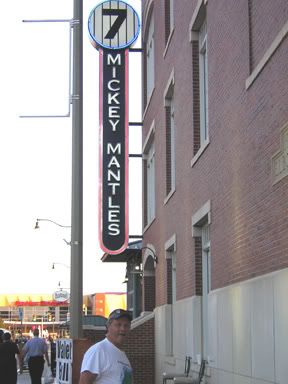 The best shot of all is the one below....THAT says it all!!! Doesn't take much to make a kid (even a grown one) happy, does it?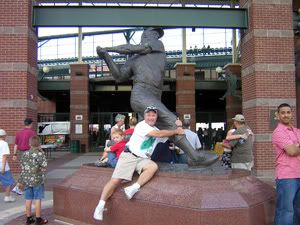 The rest of the trip was going down (Dad's) memory lane...he is a wealth of stories from the past (and at 82, there are TONS of them). A nice dinner out with my brother and family, and the next day we were winging our way home again.
Now, this IS a knitting blog, so I should mention that once again I ran out of yarn while knitting the pink/purple/silver sweater shrug, but luckily I took additional yarn and needles for two other projects. I started a pink baby sweater called Nona's Baby Jacket, worked from the top down in Bernat Babie Softee using size 6 needles, and finished a toddler's hat using Caron Simply Soft, just for practice. I ran to the LYS today and bought TWO more skeins of yarn for the sweater shrug, and tomorrow I am praying that it rains again (we've had lots of wet days in S. Florida lately) and I will stay in and knit, knit, knit. Then, in the evening, I meet with my knitting group where I will knit, knit, knit again. I HAVE to finish this pink sweater by Thursday, for that's when I am seeing Laura and want to give it to her once and for all!