Back to Normal!!
July 22
Ok - ENOUGH of staying in the house! Gotta go, gotta do, gotta, gotta, gotta! Friday is my usual nail day, so true to form, I had a manicure today, and since it's been 5 weeks since my last pedicure, I did that too. Patrick, who does my nails, is so good. I don't have the best nails in the world, but stopped using acrylics about two years ago. The other guy who did my nails (different store) was very nice but my nails weren't. Ever since Patrick has been giving me a manicure (since May) my nails are long and strong. Of course, it helps that I have been off all summer, but I think they will still be ok once I return to work.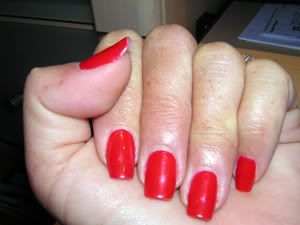 After that, I met three coworker/friends for lunch at The Cove, a comfortable restaurant in Deerfield Beach, Florida, on the intracoastal waterway. We sat outside by the dock and had a great time eating salads, gabbing and laughing. Then two of us hung around and walked and talked.
At night we had dinner on the Avenue, then went to see The Island. It was pretty good. SciFi to be sure, but action packed. Then it was home to watch the Yankees lose to the Angels once again (this is getting to be a very painful habit).