No more pencils, no more books...!
School's out for the summer...YEA! After an exhausting year and an even more exhausting month, school ended today - for the students. My last day is tomorrow, but I only have a little paperwork, then get signed off by various staff members, hand in the key and go the End of the Year Luncheon, which, as President of the Sunshine Committee, I am in charge of (thankfully this year, as in other years, I have good helpers). Then I have 8 weeks off (instead of the usual 9) and lots of travel ahead. I begin by flying to AZ to see Alison, my daughter, and help her pack up for her move with hubby Michael to GA. I am THRILLED that they are moving closer, as ONE day (yes, I know Ali - not preggers, not trying) I will have a grandchild, and GA is so much closer to Florida than AZ is. Alison told me tonight that she ordered white wool so she can show me how to dye it with Kool Aid, and hopefully I will learn to felt, too.
One of my coworkers got me the little angel below as a parting gift - thanks, Pam. It's really an angel for mom's to be, but she knows I am a knitter and couldn't resist it. I'm glad she got it for me...I love it!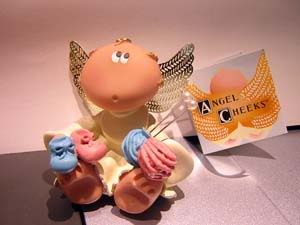 Happy, happy, happy, happy summer!!!!! ....can you tell I'm happy?