YEA!!!! Finished!!!
I finally finished the "Surprise Shawl" that I was making for Aida, my friend/coworker. She hasn't seen it at all, so I am eager to see her face when I give it to her. I think it came out pretty good for my first one. The picture doesn't do it justice,for you can't see the different textures. It is also a bit bigger than intended but I wanted it to be full looking. The colors are shades of aqua (turquoise) and brown. I have included two views here.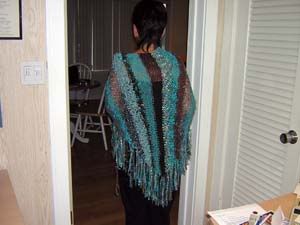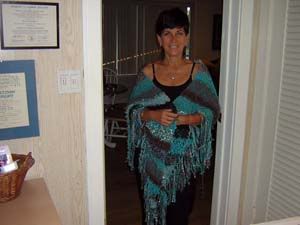 Now I have to pick up yarn so I can start on the shrug for another friend/coworker. Once I finish that one I hope to complete my gray cardigan, sew together the pieces of my WOW! Chenille cardigan and then make the shrug for myself and/or Alison.
Today was also a good day because the Yankees beat the Mets in the third game of their Subway Series, taking the series 2 to 1. It's always a good day when the Yankees win! As for me, I am sore as heck! On Friday I played in our annual kickball game...staff vs. 5th grade students. As always, we won (15 - 5). I told the AP that from now on we have to have anger management counselors on hand for the end of the game. You cannot believe how upset some of these kids get. Try as we might, we just can't get them to understand that the game is played FOR FUN!!! and that winning isn't what it's all about (except to them, it is!). I'd like to tell you that I caught the high fly ball that was kicked my way (way out in Center Field). However, as it was coming toward me I saw myself getting hit in the chest with it and being knocked to the ground - so of course it went uncaught by me! I did, though, manage to kick the ball a few times well enough to get onto base, and once on base another teacher kicked it so hard that I was able to run to home base. Hey....what do I know about being a great fielder...I was a CHEERLEADER, for goodness sake!
<Sigh> and so another week starts tomorrow, but I split my class in the AM and have a meeting, followed by the rest of the day to work on records and cleaning my classroom closet and purging files. Meetings every day, and then Friday (yea, Friday) it's off to Bimini, Bahamas, and diving for the holiday weekend. Life is good!!