No Problem, Mon? Yea, Sure!!!
Memorial Day weekend Gerry and I took a much needed vacation. We flew to Bimini, which is an outer island of the Bahamas. We went with some people from our dive shop. It was to be a pure diving vacation, with about 7 or 8 dives. Yeah! Best laid plans...! We left on Friday on a little prop plane that took off almost an hour late. The flight was ok, not exactly first class - ok, not even coach. But it only took 15 minutes to get there and another 5 minutes to be driven to our hotel. Ok, not exactly a HOTEL as we know it. It's really a bunch of rooms in two floors over a bar/restaurant, right on a canal (a sometimes "stinky" canal). The good thing is that we were told NOT to expect too much in the way of ....anything. So, we didn't and were not disappointed. The rooms were clean and made up each day, the staff was nice, too. Our first room had a non-working cold water faucet in the shower, so our room was switched to across the hall (this came AFTER our first dive, when I desperately wanted that shower). The next room had a leaky sink when used, so...we didn't use it. After arriving and getting settled, we did a night dive Friday night. That was a bummer. We only had one light, Gerry lost a weight and had to return to the boat (and so I had to, too) to get more weight. It was hard to follow the light under the water AND keep an eye on Gerry (it would have been better with 2 lights), and we saw very little sealife. When we surfaced, we had to swim a LONG way to the boat, because it couldn't come for us and risk hitting divers in the water in the dark. A plus, though, was that the sky was amazing with all the stars out, and it was SO clear. But we had never had to swim back to a boat before. THEN....many of the divers got bit by sealice, which produces a fierce red bumpy rash. I lucked out ...that time! No bites (of course, I am covered literally head to toe by wetsuit, booties, hood and gloves).
Saturday's dives were not great. The weather was terrific - very clear and very hot, but the guys running the boat didn't exactly know what they were doing, so the barge that we were supposed to dive on was never found (we went down, searched and came back up) and the next dive wasn't great either. We returned to the hotel, showered and passed out. When we woke, the others had gone into "town." We asked the restaurant waitress to call a water taxi for us (the only way to get to the north side). We got there and walked up and down, looked in the two places we were told they would be, can couldn't find them, so we returned to the hotel to eat and lo and behold, the waitress said, "Oh, you didn't find them? They went to_____." And we found out later that she had made their reservations. DUH! Why couldn't she have told us in the first place? So we had burgers and went upstairs to pass out again.
On Sunday we had the BEST day. The weather was great, the LONG trip to the dive site was good (which means I didn't get sick). Our first dive was on a pinacle and wall and the second was a beautiful reef. Here is a pix of us taken on one of those dives: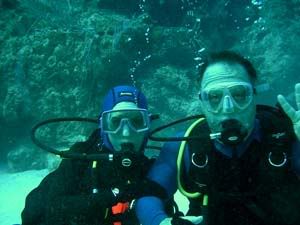 We also anchored near a beach where we snorkled in to shore - I saw a sting ray and a nurse shark while going to and from the boat. Having had a great day, we showered and planned to eat and watch the Yankees play the Red Sox at night, but the bar filled up with people wanting to watch the basketball playoffs - must be the only satellite TV on the south side of the island, so we went to sleep. We had to hang around on Monday till flight time - 3 PM. AH - I forgot to tell you that I got a MAJOR sunburn (still hurts), Gerry's feet were badly burned, and those with sea lice bites are still suffering - Gerry among them, but his wasn't as bad as some of the others. Guess you can safely bet that we will not be returning to Bimini anytime soon.