I Can't Forget Where I Come From!
I FINALLY got what I have wanted for about 10 years...a VANITY PLATE for my car. I talked about getting one and never did. This year I decided to get off my bottom and went to the DMV and ordered it. When I first wanted a VP, it was to read...4EVER27. Well, time went on and that didn't seem right. I thought of 4EVER 35, but by now that was too vain sounding. I made a list:
2DEVINE (my married name is Devine)......DEVINE1.....KNITCHIC....LUV2KNIT.....the first two were taken, the next two were too long (only 7 characters allowed, even though they give you a form with 8 spaces....what's up with that?).
I was not able to get any of my choices so I had to come up with this one. For those of you who are NY savvvy, BX stands for Bronx ...as in The Bronx, or, as any red-blooded New Yorker would say....DA BRONX!! Having lived there for most of my life, it seemed appropriate. I always refer to myself as just a "girl from the Bronx." Doesn't it look great (and also appropriate) with my license plate frame? I feel so special now!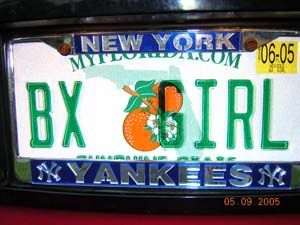 I had a tiring but wonderful weekend. My cousin's stepdaughter was getting married in GA this past weekend. Although I had only met the bride once, when she was about 13, I thought it was important to go for my cousin. He is such a sweet guy, married to a really nice woman. After I accepted the invitation, I found out that we were the only family on both their sides to be attending (she is an only child, ill mother, dad deceased and cousins remote). The rest of the guests were the bride/groom's friends, groom's family and bride's father's family. I was so happy that we went. Funny how we run to attend funerals but many would not think to go to a wedding far away unless it was someone very close to us. ANYWAY.....that aside....Gerry's job kept him home so Mom and I made the drive. Since it's about 10 hrs from here in S. Fl, we drove to Ocala (Central FL), had dinner with and slept over Becca (my daughter) and Phil's house. We got an early start in the morning and got to our hotel in Roswell, GA around 3:30. After resting a bit, we went to a BBQ given by the bride/groom's friends. The area of Roswell is so beautiful, which I was happy to note as my daughter Alison and her husband Michael are going there next weekend to look for a house to buy. I am THRILLED that they are planning to move closer (that AZ, where they live now).
Saturday the weather was picture perfect. The wedding was at noon. It was small, only about 60 people, but we had a lovely time.I can't post a pix here as I took them with my camera phone and have not learned to upload them to the internet yet <sigh>. At night we were taken to dinner by my cousins and had a really fun time. Marcia, my cousin's wife, is into knitting and so we had a good time discussing yarns, knitting sites and patterns. After dinner, Mom and I retired to our room where we got into our beds (two in the room...yea!) and watched some TV. I started on the Surprise Shawl for my friend Aida. I am 1/4 way done and it's SOOOO pretty. Can't wait to take a pix of it and post it here, too.
Sunday we got an early start and drove back to Ocala - 5 hours - where we had dinner with Phil at the Outback, where Becca works. She was on duty but came over when she could. Then the final leg of the drive....3 1/2 more hours. Needless to say, I am REALLY tired tonight so I didn't knit a thing. But..tomorrow night is my knitting group and I'll happily work on the shawl some more. So, since it's after 11 PM, and I rise at 5:45 AM, I think I should get some sleep. Night for now!