Who Said He's Not a Romantic?
This has been such a tiring week. Work is exhausting...this year we were told that there would he "less paperwork" for teachers and it now seems as if the paperwork has doubled. That's because in Broward County Schools there is the policy to CYA, because aside from the obvious need to prove what you have done with/for your students, Florida is a sue-happy state...do one thing awry and people want to sue the pants off of you. So as the school year draws to an end, there is tons of record keeping to do. On top of that, I have meetings, meetings, meetings....team meeting, staff meeting, team leader meeting, child-study meeting....this coming week I don't have ONE DAY with out meetings....2 hours on Monday, an hour Tuesday morning, all day Wednesday, an hour on Thursday; AND I have to clean out my closet and files and pack up my room. Most days I stay at school till 5 or 6 PM. It's no wonder that I am exhausted when I get home. In fact, I've been so tired, I have turned down Gerry's offers of going to the movies every night this week (except Friday...more in a bit!).
I came home yesterday...Friday...and Ger came in 5 minutes later with a BIG bouquet of flowers. "Happy 5th Anniversary of the day we met, " he said! My goodness, I can't believe that he remembered about that date, for I had not! We actually met 5 years ago May 18th, but whose gonna be fussy about 2 days. The flowers and the sentiment came at just the right time. They made me feel so good. He's not really much of a romantic, but this gesture shows that there lurks a bit of the romantic inside him.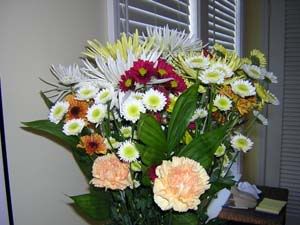 Because I have been so tired I have not blogged in a long time...sorry to both of you who read this! I am almost finished with the Surprise Shawl and will post it here when done. I am then going to start on the Texture Shrug by Ramwools.com, but will not use the yarns that I ordered with it. I am making it for a friend at work who wants light pink/lavender/silver, so I have to go to my LYS to buy some yarn.
My "new" knitting group met last Monday night and decided to meet every Tuesday night. That's wonderful for me as I was used to Tuesday nights and I am happier with the meeting every week instead of two times a month. The women in the group are so nice, with new ones joining us each week. Plus I get to buy a delicious coffee at Borders each week....with sugar free flavorings added (just can't remember the actual name of the coffee).
So much for a relaxing morning today. I had to take Tiemann, my maltese, to the dr for his annual shots. He went last week for a checkup but had a little infection, so I had to bring him back today. We had decided to wash all three dogs today, so I took Tiemann into the sink first. He was COVERED with dead and alive fleas....yuck!! I bathed and dried him, picked off the remaining few, and put on the flea killing stuff. Then I took him to the vet and left him there for his shots, came home and washed Rusty - yup...more of the little buggers on him, but not after I got thru with him. Then we washed Cocktail. And of course, I had to vacuum, spray the couches with flea killing stuff, do lots of laundry, and I think I'm done now (thanks to Gerry who did the vacuuming.
Nothing more to add, and the Yankees/Mets game is on TV so I am off to work on the shawl and watch the Yankees win (I hope).