Oh, What We Do In The Name of Education
So you thought that education was a serious business? Well, most of the time it is, especially in FL, where the FCAT monster controls most of what teachers do (FCAT is the Florida Comprehensive Achievement Test). The test is in a week or so and evreyone is anxious, over worked, exhausted and worried ('cause promotion in grades 3 - 5 in the elementary schools are primarily based on the scores, as is the school's status as an A, B, C, D or F school....mine achieved "A" status last year...woohoo!!). But we took time out today (and we really should EVERY month) for fun! Today we celebrated what would have been the 102nd birthday of Dr. Seuss. We were to show one of the several Dr. Seuss videos being broadcast every hour; read stories to the class - I got to read about 4, even read one sitting outside with my class. Every teacher was given a hat to wear, and we were asked to wear red and white. I was planning to wear black with a red bow, but not one to go completely against the grain, I complied. Several others, however, DID do their thing and so I had to show you how cute they looked. This is Mrs. Pin who teaches Spanish 2 (cultural Spanish, taught completely in Spanish). We are a magnet school for languages, the other being French, Japanese and Spanish 1. I had just finished reading
The Cat in the Hat Comes Back
to my class, sitting outside. The children then went to Mrs. Pin's group and she just happened to bring in the same book.....in Spanish.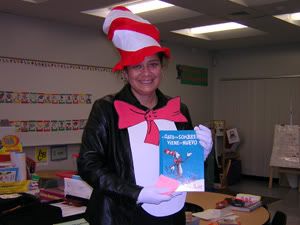 Pam, one of the teachers on my kindergarten team, always does cute things with her class. Here she is in full garb. She even got her assistant to dress up like the C in the H too. Way to go, Pam!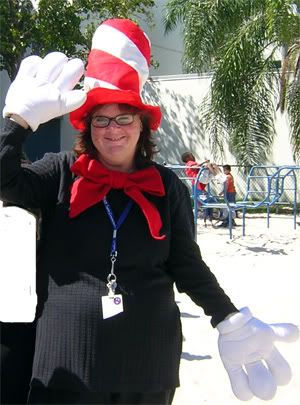 As for me, I wore that
darn
adorable hat all day long. Talk about
HAT HAIR
!! But it was a really fun day. And I did get to read my favorite Dr. Seuss book
Horton Hatches the Egg
!! I just LOVE reading it outloud!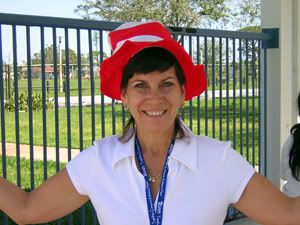 On Sunday Gerry noticed that Cocktail's ear was cockeyed (cockeared???). The last time that he looked as if his ear was sliding down the side of his head, he had been really sick, so Gerry and a friend took C. to the vet. After losing his breakfast all over the vet's floor, and after an examination that C
really
didn't enjoy, the diagnosis was....really bad ear infection. Poor baby! You may think, in looking at the picture, that his right ear looks low because his head is turned....noooo....it looks that way even if Cocktail is facing you. And don't be fooled thinking he is teeny. He weighs about 43 lbs (7 less than usual...he's too skinny and really old...15 1/2). Every day with Cocktail is a bonus!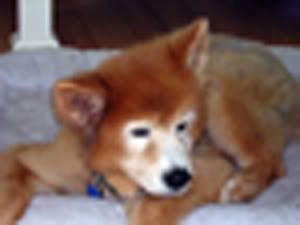 I did knit two hats but forgot to photograph them before sending them off. The first was in Karaoke...Alison's Playful Hat, pattern found on Alison's blog in the sidebar. I sent it off to Gianna, my soon to be 15 yr old niece in CT. The second hat was the Winter Femme Hat shown on Alison's December post, except mine was made with KnitPicks 100% Merino yarn, vanilla. Sent that one to my daughter Becca, who LOVED IT!!! Now I am making a basic top down cardigan in light blue Bernat Baby Softee. Just killing time till April when I go to see Alison and learn fair isle.
Update on Gerry...tomorrow marks the halfway point in his month long interferon IV treatment. He feels horrible...exhausted, as if he hasn't slept in 3 days or more, upset stomach, headache, low grade fever, sometimes earache. It's so sad that this man felt perfectly fine...was not sick....even after the surgery to remove the mass, he recovered and felt fine. But the CURE (if it works!) is making him so sick. I hope that once he gets past this month of treatment and onto the next phase, he'll feel better. To all of you who have been keeping him in your prayers, and especially to Donna S, Sarah HB, Heather, Bethanie, and Kate (former SP) for their comments of encouragement.