Catching Up
November 6, 2005: Yesterday I ran around doing errands. One of my stops was Victoria Secret, to get Aura Science facial stuff (wash, moisturizer,etc). I had a coupon that gave me one of three free bags, depending on how much I spent. I was so proud of me. I didn't go out of my way to spend enough to get the freebie...I actually bought what I needed, and lo and behold, it was the exact amount for the bad I wanted. When I got to the register they told me that they were out of the silver bag. I was not a happy camper..."while supplies last!"...but the manager was a doll....he looked in the back and found one more. It's a really nice silver tote, trimmed in black. It will make great bag for smaller knitting projects!!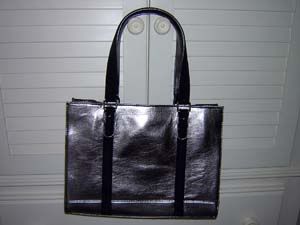 November 6, 2005: I started working on Phil's 30th birthday gift....a hooded sweater. I am using Lions Brand pattern that is supposed to be done in Homespun. I couldn't find that yarn in the color I wanted (of course, after I purchased other yarn and knitted this much, I found the Homespun). I am using Plymouth Encore Chunky in a light cranberry, and will add a black stripe across the chest and on the arms and hood. I had to go up two sizes in the needles to get the correct gauge. Luckily I listened to my daughter who wrote on a recent blog....I must gauge, I must gauge.....and so I did! Thanks, Alison!!! Phil won't have this by his BD, which is today, but it works up fairly quickly so it won't be long (but I have to tell you....knitting straight st st is SOOOO boring!).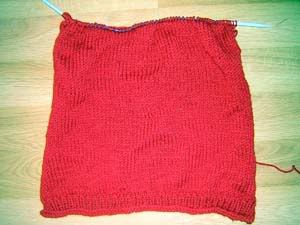 Filled in some time b/t projects by knitting a washcloth using Peaches N Cream 100% cotton yarn that I received from my secret pal 5. I decided to add a bar of Vitamin E soap, purchased for $.99 in Whole Foods Market, and give it as a little holiday gift to a friend at work. I plan to make 4 more, for my other friends. I used one of the patterns in the Fall 2005 issue of Knit It! by Better Homes and Gardens.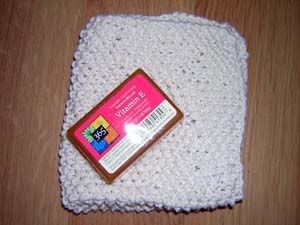 ARRGH!!! I am almost done with mom's textured shrug and I am running out of yarn. Have to get to JoAnn's or Michaels to try to get one more skein of Electra. Yes, I know it will be a different dye lot but I am hoping it won't be noticeable since it's such a multi-color yarn (the store I purchased it as is out of business). Doncha just hate when that happens?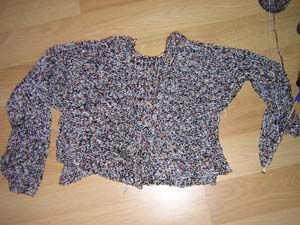 I sent for a freeby and received this yarn....a bit frou-frou, but will make a cute scarf for my teen niece.


Finally, a picture of the beautiful yarn sent to me by my secret pal 6. It is 100% merino - DK/lt.worsted weight in lovely shades of green and brown. Looks hand dyed to me. I love it.


October 25, 2005 - This is the sky at dusk...it was a beautiful, cool evening. If you didn't look around the neighborhood you wouldn't know we had been thru the wringer.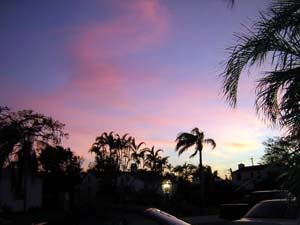 October 25, 2005 - Gas Woes.....Here are Gerry (standing) and our neighbor Mike trying to figure out how to put together a contraption for siphoning gas out of our cars. The lines were SOOOO long to get gas...people waiting several hours in their cars, only to be turned away (this was assuming you could even FIND a gas station open. Many had gas but not the electricity to pump it; many had pumps blown over by the storm). The guys found that there was an essential part missing in the package, so resorted to the old suck and/or blow. However, they soon discovered that cars today have a protective valve that prevents siphoning. Next, Mike heard of a gas station that was allowing only walk-ins, to fill containers for use in the generators. We rushed over there and joined Mike and another neighbor on line, but only stayed 3 minutes. We were told that there was only 500 gallons of gas left, and there were almost 100 poeple ahead of us, some with two and three containers. We went home, but Mike stayed, only to be turned away.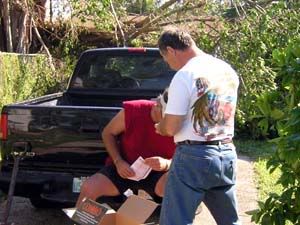 Here is a bit of that line: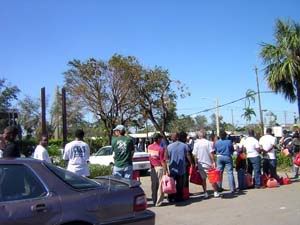 October 25, 2005 - Day after Hurricane Wilmide Struck Delray Beach
We survived the hurricane but it was really a horrific storm. I finally got some pictures onto my blog to show: This is our new fence that was blown down (we have since put it back up). Thank goodness it wasn't broken, making our job easier. The little structure on the other side of the fence belongs to "the Cow," our not so nice neighbor.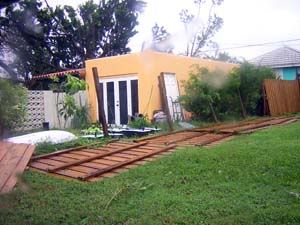 This is Federal Highway in Delray Beach, heading to Boynton Beach. You can see that trees are down, powerlines hanging, properties (on the right) destroyed.


Around the corner from our house the entire street was covered with downed trees. It took three days before they could get someone out there to remove the trees. Now there are lots of brown, dead trees lining all the streets. It will take 6 - 8 weeks to get to clear the debris.