Ever Dislike What You Made?
I FINALLY put the finishing touches on two baby sweaters that were sitting here, one longer than the other. This yellow sweater was made on my trip to Ohio. I really don't like it, but hated to frog it. It's made with Snuggly by Sirdar, a DK yarn of nylon and acrylic. It doesn't hold the shape, the pattern I used wasn't great, but....it's complete. So I added some buttons (didn't even put on on the top because my button hole is all but non-existent. I cannot give it to someone I love, however....all is not lost. There is a student from my school who is pregnant (and I teach in a pre-K to 5 school). She is barely 13! DON'T ASK!!!! Her socio-economic status is very low, as is her academic abilities, but....she is never-the-less, going to have a baby. My aide asked, since I know the girl, if I would contribute some baby things to help out. I went to Wal-Mart and picked up a few items. Today I got a baby bathtub from the Free Recycle group that I belong to. So...I decided that I will give this sweater too. I may not like it but the girl will LOVE it, and that's what counts!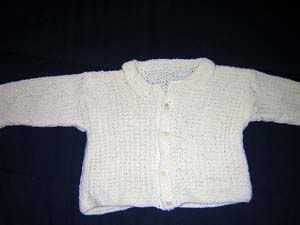 I also completed the pink sweater that I made a few months ago using Bernat Softee Baby yarn. I love this little sweater. It's knitted top-down, which I love to do, with the hood added at the end.I had not made buttonholes so I crocheted loops instead, and sewed on little white teddy bear buttons. I am giving this to my dear friend's daughter who is expecting her first baby, a girl, around Xmas. Isn't it cute?