Life's a Beach!
I NEVER go to the beach. I live about 3/4 mile from the Atlantic Ocean but almost never go. However, this summer, I have been there 7 times...once with Gerry's niece, twice with my niece, once with my friend Sarina, and twice with my friend Carla and her baby Parker. Hmmm - I can do this, I thought, and so yesterday morning I took MYSELF to the beach. Armed with reading for school and my Harry Potter book, I drove to the beach, set up my sand chair and sat and read. It was so lovely...the roar of the waves, the peace of no yelling children or loud talking people....really relaxing. Then I walked down to the water and enjoyed the waves washing in to shore The water was really warm... I like my ocean temp to be around 85 degrees. After returning to my chair, I sat another 15 minutes before I got ansy and left. I doubt that I will make it a habit, but it was really nice.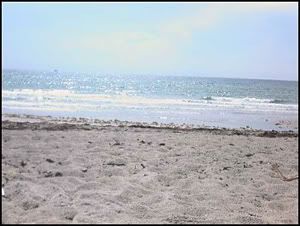 So, sock it to me!!! I finished my sockapalooza's broadripple socks. I used US # 3 DPN and 1 1/2 skeins of Knit Picks Sock Garden 100% Merino Morning Glory Wool. I love how the Knit Picks yarn works into such a pretty stripe (sort of) and it's such a soft yarn. Now I can put the socks away till it's time to mail them in September, and will start on the texture shrug (same pattern as the pink one that I made, but this is the yarn that came with the pattern). I will be working with Electra and Clea yarns.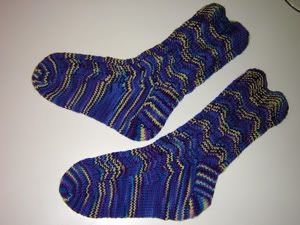 While I was knitting, two of my dogs were sleeping at my feet. I couldn't resist taking their picture, for Rusty looked SOOO cute. He loves to burrow under blankets and sleep there. If you sleep on my futon, he thinks he is the head of "guest relations" and will get under your covers, curl up next to you and keep you warm and cozy for the night. Tiemann is just an innocent bystander!