What a GREAT party!!!
On Saturday we celebrated Mom's 80th Birthday with a luncheon (party) at Mon Ami, a restaurant in Boca Raton, Fl. There were 38 of us, friends and family. It was a beautiful day outside and in. Mom was THRILLED! First, on Friday night when, after an all day Mystery Bus Ride with her friends that took them to dinner at WolfGang Puck's and then to the Stars on Ice show, she was surprised when we showed up with my brother Randy, who we just picked up at the airport. She had not seen him for 4 1/2 years (he lives in Oklahoma City, OK) and she had no idea he was coming. On party day my daughter Alison called her (presumably from Arizona, where she lives) but she was really in the parking lot and as she spoke to Mom, Alison walked into the restaurant and tapped her on the shoulder! Then, not only did she have me and Gerry, my brothers Randy and Jon (from CT), my niece Gianna, Alison, husband Mike, there was my daughter Becca and hubby Phil from Ocala, and my step daughter Suzzette (showing her pregnancy) and her hubby Brian. The food was fabulous, service excellent, and the guests wonderful. My cousin Ann's husband Ray serenaded Mom with "If I Could Save Time in a Bottle" and "Happy Birthday." He has a beautiful voice. The best, the very best, though....was Alison's gift. She made a photo blanket with 60 photos of Mom's family and some friends. You can check out Alison's saga of the blanket at her blog
Creative Genius
.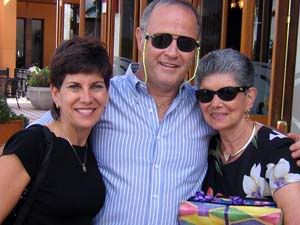 Me, Gerry and Mom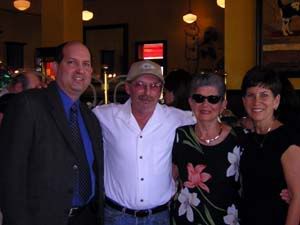 Jon, Randy, Mom and I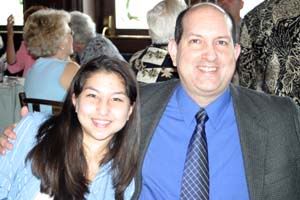 My niece Gianna and Jon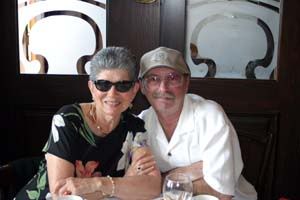 Mom and Randy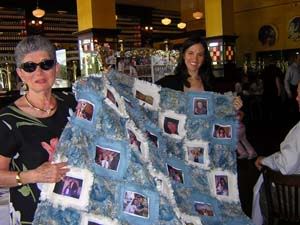 Mom and Alison with the photo quilt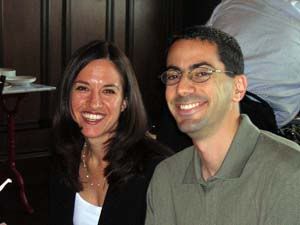 Alison and Michael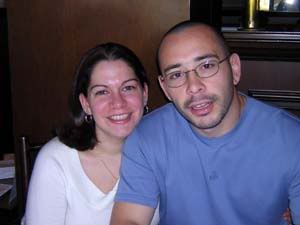 Becca and Phil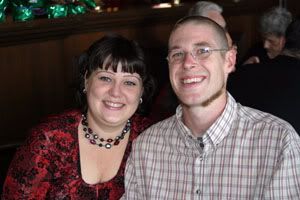 Suzzette and Brian
The rest of the day was terrific, too. We went back home to relax, and at night we went to Longhorn's for dinner (could not get reservations anywhere for 12 of us). We had a GREAT time, but, best of all....ALL the "kids" got along so well. Alison and Becca loved Suzzette (only their third meeting, as Gerry and I are only married 1 1/2 years), and visa versa, the guys got along famously, and Gerry and I were SOOOO happy.....it's a wonderful family that we have together.
Alison was such a good cousin. She brought Gianna a beaded bag and yarn - Simply Soft by Caron (lavender) and a fun fur, with size 19 needles. I showed Gianna how to start a scarf and she was working on it for a good part of yesterday (Sunday) afternoon. We are hoping to create some interest there.
Randy flew out early Sunday morning. The "kids" all left Sunday afternoon. Gerry went to the Daytona 500, so I spent the rest of the day and the evening with Jon, Gianna and Mom. Today we took a ride with the convertible top down and went to Palm Beach and onto Worth Avenue, a very expensive strip....definitely not my taste...too ostentatious. I like my simple life here in Delray Beach! After a nice dinner we went to the movies to see Constantine with Keanu Reeves.....ICK!!! I am not saying that the movie was no good, but it's all about the devil, exocism, getting into heaven. That's all fine with me...it's the depiction of those souls in hell, bugs attacking a human, weird things going on in the name of the devil....that I take exception to. I prefer a good drama or a feel-good movie like Shall We Dance or Finding Neverland, etc.
It's been a terrific weekend. Tomorrow it's back to the grindstone. I am happy that it will be Tuesday, though, so I can go to the Gifting Tree for SnB. A day/evening of peace and then.....Gerry's 2 friends get in from Cinncinatti, staying for 5 days!!!